Submitted by: Deidre Paez, Legal Projects Specialist
Back in 2003, I joined Susan G. Komen to get involved and raise awareness after reading her story. I participated in walks, wore a pink scarf during the month of October, tied a pink ribbon to my phone, and read about developments. I remember a former co-worker asked why I have the ribbon on my phone, and I explained it's to bring awareness to breast cancer; initially, she thought it was because it had something to do with me, a family member, a friend, etc. Well, at the time, no; I was just being an advocate. I was in my 30s then and didn't think about a mammogram until my 40s because no one in my family had a history of breast cancer. As soon as I turned 40, I had my first mammogram and hated it.
Fast forward to November 2021; I moved to back closer to home (Hilton Head Island) and started my career with the TMX Finance® Family of Companies. As soon as I started my career, I also started looking for a new home. As my husband and I were looking at houses, I started to realize all my annual check-ups were coming up. After closing on our home in December 2021, I began making my annual appointments, starting with the mammogram due that month. I found a primary care physician that referred me to an imaging place. Great news! I made the appointment for January 27, 2022 and go just like normal, not thinking anything of it. A few days later, I got a call that I needed to schedule an appointment for an ultrasound. I thought, "Ok; normal routine, I guess." Again, I didn't think anything of it. The ultrasound was scheduled for February 10, 2022. The doctor comes in, and he said, "I was looking at your images from your previous doctor's office, and this area – or this thing – we see was not there before." Then, he said, "We just want to check it out and see what's going on." He scheduled me for a biopsy on February 24, 2022. I have to say, this was a very painful procedure! At this point, I just went through it, telling myself it was part of the process.
I remember it exactly; it's March 2, 2022 at 4:30pm, and I got a call from the doctor who told me the biopsy sample came back malignant. The doctor informed me it's Invasive Ductal Carcinoma (IDC), meaning it had spread into other areas of the breast and is the most common type of breast cancer. I can't speak; there was a five-second pause. I dropped the phone and picked it back up, fighting back tears. I ask, "what does this mean?" The doctor said the cancer is about the size of a grain of rice and that it was caught early, but I'd need to find a surgeon. But, in my mind, all I heard was CARCINOMA!
After I hung up with the doctor, I immediately got in touch with my husband; there's silence. I told him the doctor just called and I cried. I didn't know what to do; what do I do? I was scared.
Stay with me; it's only the beginning of 2022, and I am already hating the New Year! I find a surgeon who came highly recommended. I met with him on March 22, 2022. He gives me a very large book about breast cancer and thinks it would be useful for me to read. He's very thorough; we ask questions, and he provides answers. I'm still scared at this point, like really scared. The surgeon tells me I need to have genetic testing done since there is no history of breast cancer in my family and then also meet with a genetic counselor to determine what kind of surgery needs to be done, mastectomy or lumpectomy. I think I have gone through 100 emotions at this point. I was angry, sad, happy, unsure of what to feel, and then I would cry. I cried a lot.
I met with the genetics doctor the following month; he asked a lot of questions, and then I had lab work done. My lumpectomy surgery was scheduled for later in April to remove the abnormal tissue with a guided needle. Recovery time sucked; I was in pain! I should be happy they removed the mass, but I was kind of sad. I don't think anyone realizes the loneliness you can feel because no one understands, and everyone is living their own lives. During this time, my husband does whatever he can to cheer me up. A month goes by, and I was finally starting to heal and feel somewhat normal again. I then met with oncologists to start radiation and chemotherapy. I started radiation in July.
During week one of radiation, I felt like Superwoman. The first day was about two hours long in order to be plotted where the lasers needed to line up. I have Xs and stickers all over my back to show where the laser needed to line up, but almost every day, the numbers were slightly off, and the markers needed to be moved again. Week two of radiation, I was still okay, but I started to notice some changes to my skin and underarm area. My armpits looked like charcoal and the fatigue had kicked in. All the while, I go back to work like nothing just happened to me. Week three of radiation, I was tired, and the radiated area started to hurt; shirts were becoming difficult to wear. Week four of radiation is when everything hurt and throbbed; there's a radiation boost to the surgical site done, and it was really hurting.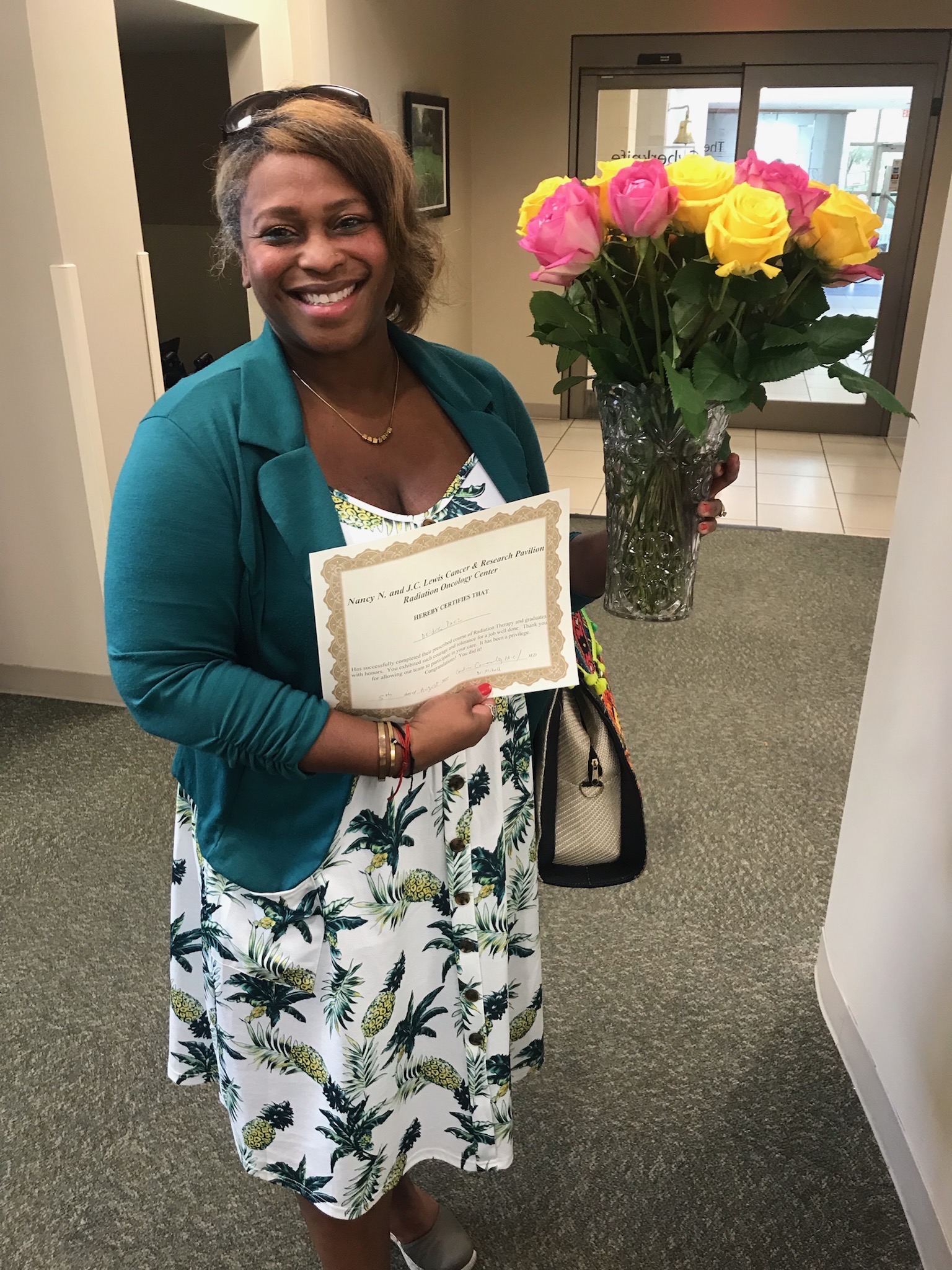 On August 5, 2022, I finished radiation! I didn't know whether to cry or be happy. The nurses celebrated with me; I rang the bell, and my husband brought me flowers as well as took me out for drinks that night. I wanted to be happy, but I was dying inside because my armpits were on fire! The skin toxicity recovery from the radiation lingered for about two to three weeks. Burn cream, Aquaphor, and Ace wraps became my best friends. But radiation wasn't the end; I still have to take medication for the next 10 years, with a check-in at the five-year mark. Not only that, but I have monthly visits with the oncologists, surgeon, and other doctors for monitoring. All this just from one mammogram done in January, finding a mass the size of a grain of rice.
We all hate going to the doctor, and trust me, I hate taking medication, but I am so thankful to be here! I share my story because mammograms do what they say: early detection. I didn't like the outcome, but I can say, "I FOUGHT BACK," and I'M A SURVIVOR!