TMX CARES
We believe in helping people and have made it our business to care for our many communities. TMX Cares is our community involvement and volunteer initiative dedicated to supporting all of the communities in which we live and work. And if you do the math, that's over 1,100 communities in 15 states across the country! Our Company is committed to partnering with our team members to engage in and help strengthen our communities.

We are a team. We are one. We are the TMX Finance® Family.
The TMX Cares Fund allows our team members to help other team members experiencing extreme financial hardships due to unexpected and critical family crisis' on a regular basis, not just during a natural disaster. We hear about our very own team members facing severe medical issues or that they have lost everything to a house fire, and we want to come together and offer support. We will not let our team members face these dire situations alone. We are family and we are here to help.
#HelpingOurFamily
Giving Back
We are committed to improving the quality of life in the communities where we do business. From collecting toys for children during the holidays to having a book drive to support a local school system, we strive to be responsive to the many different communities we serve. We support numerous programs and services as well as partner with national groups to help make a positive impact that matters in our local communities. We achieve great things when we work together as one!
Check out just a few of the initiatives that helps our communities thrive.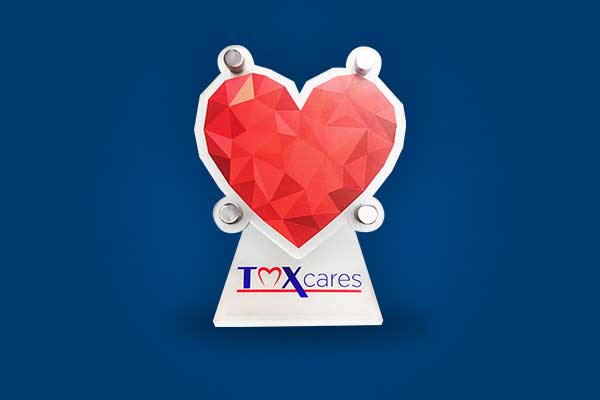 THE HEART AWARD
The Heart Award embodies our mission of helping people. It's at the very "heart" of what we do each and every day. However, there are some who go well beyond what is expected and they achieve more because of their extra effort to help others.
All participating stores and corporate departments are eligible to receive this recognition, which is awarded to the store and the corporate department that raises the most funds during a TMX Cares community initiative. Together, through our many efforts, we are able to make a significant impact on our communities, helping the people who need it the most.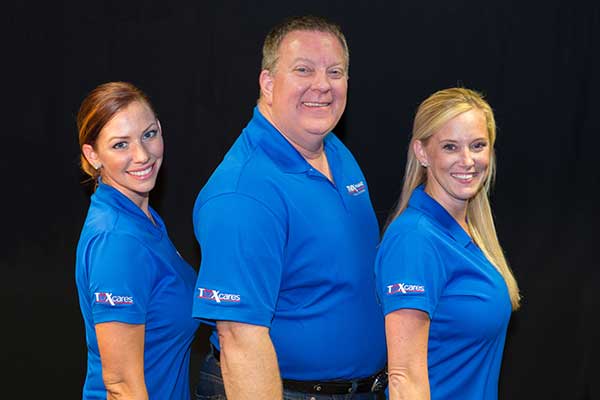 WEAR YOUR HEART ON YOUR SLEEVE
We admit it. We wear our hearts on our sleeves when it comes to our TMX Finance® Family and our many TMX Cares community initiatives! We're open and honest about our feelings towards our team members and for giving back to our communities- WE LOVE IT! The "Wear Your Heart" shirts can be purchased by clicking below and the profits we receive from each shirt or item go directly to our TMX Cares Fund. We encourage you to wear these shirts at our community events to not only represent our Company, but by wearing our hearts on our sleeves, we're letting everyone know how much we love giving back to our communities. It's at the very "heart" of what we do every day!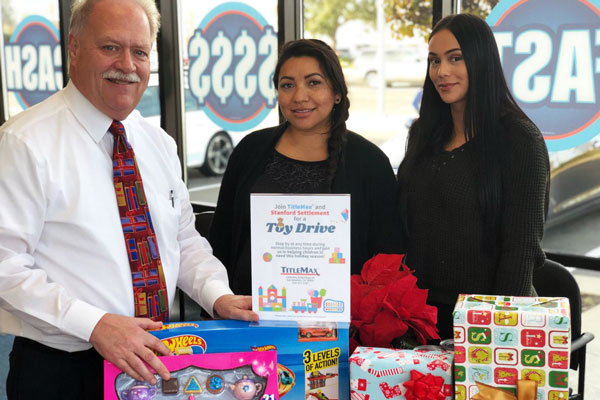 TOY DRIVE
The holidays can be a very difficult time for many families. During the months of November and December, we work extra hard to bring in donations of unwrapped toys to help make children's holiday wishes come true! We partner with Toys for Tots® in many of our communities as well as deliver toys to local shelters, hospitals, and small organizations. Store and corporate locations across the country serve as donation drop-off points during the holiday season. If you can't tell, we have an extra soft spot for children and we've made it our goal to make sure as many children as possible have a wonderful holiday!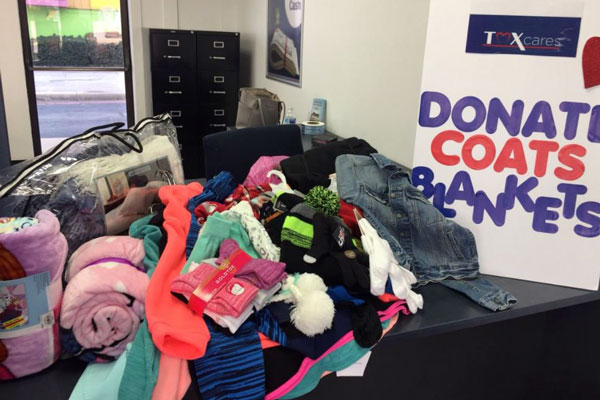 WARM WINTER CLOTHING DRIVE
During the coldest month of the year, we hold our winter clothing drive where we accept new or gently used blankets, coats, sweatshirts, hats, gloves, boots, and scarves in all sizes. Partnering with One Warm Coat®, we work hard to ensure all our donations are providing warmth to the children, adults, and senior citizens who need it the most in the communities we serve.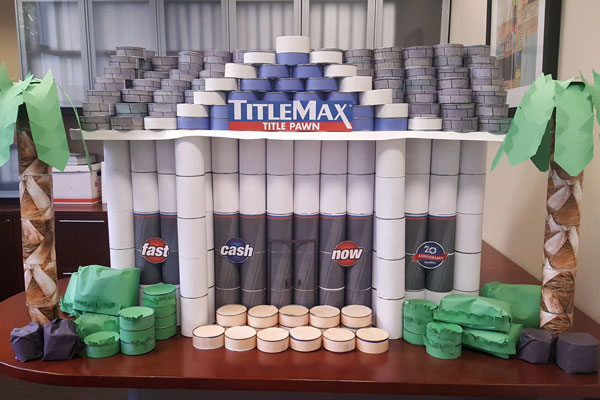 FEEDING OUR NEIGHBORS IN NEED
Our Company operates stores in states that have been ranked in the top 10 nationally for having high hunger rates, so each year in October, we hold our annual food drive and donate locally to food banks, after school programs, and shelters. To collect as many non-perishable food items as possible, we hold a "Can-struction Challenge" where each store and corporate department collects food items and then builds a structure from the donated items. Not only do we have fun working together and competing- we also bring awareness to our neighbors who are facing food insecurity.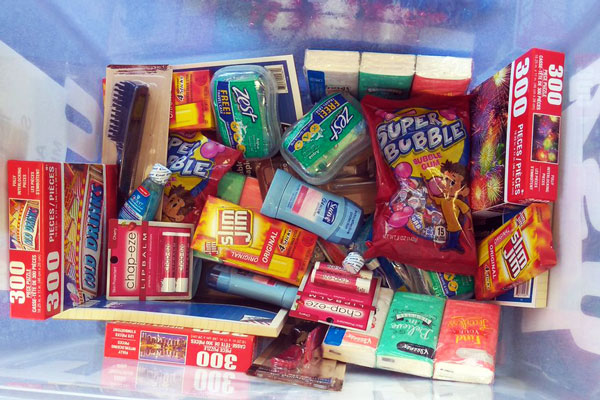 TMX CARES AND OPERATION GRATITUDE℠
May is Military Appreciation Month and we express our gratitude for those currently serving and the veterans who have served our Country by partnering with Operation Gratitude℠. All of our store and corporate locations work together to bring in donations of wish list items that can be sent in Care Packages to U.S. Troops, First Responders, Veterans, Military Families, and Wounded Heroes and their Care Givers. While the items may be small, our impact is huge!
TMX Cares Stories from TMX Talks Blog
Memorial Day – A Day of Remembrance
"Today is the day we put aside to remember fallen heroes and to pray that no heroes will ever have to die for us again. It's a day of thanks for the valor of others, a day to remember the splendor of America and those of her children who rest in this cemetery and others. It's a day to be with the family and remember." Ronald Reagan, 1986 Leading up to this Memorial Day, I reached out to several of our veteran and current military Team Members so we could share their personal stories on what this sacred day means …
Homemade with Heart
Last month, our world turned upside down. As the coronavirus (COVID-19) spread like wildfire throughout America, states began shutting down. Everyone was on lockdown; we still are. This worldwide pandemic has affected everyone in some way, whether it be losing a job, a loved one battling the disease, or finding essentials scarce on grocery store shelves. As the situation changed, so did the Centers for Disease Control's recommendations. First, it was simply wash your hands, practice shielding coughs and sneezes, and clean and disinfect surfaces frequently to prevent the spread of illnesses like the coronavirus. As weeks progressed, the recommendations …
Spinning for a Purpose
Do you remember riding a bike? Close your eyes and imagine it. Can you feel the wind in your face, the sunlight on your skin and the freedom of being on the open road or racing through a nature trail? You can mount a bike, put on a helmet, and hit the ground peddling, but some people can't. Think about your grandmother who loved riding a bike as a child or a friend you know with a physical disability. Chances are, they can't easily ride a bike. After watching a video of European volunteers cycling the elderly, disabled, and sick …
Breast Cancer Awareness
October is Breast Cancer Awareness month, an annual campaign to increase awareness of the disease. Join us in the cause to help men and women by making yourself aware and sharing the potential symptoms, risk factors, and preventions! Signs and systems of breast cancer include: A breast lump or thickening that feels different from the surrounding tissue Change in the size, shape, or appearance of a breast Changes to the skin over the breast, such as dimpling A newly inverted nipple Peeling, scaling, crusting, or flaking of the pigmented area of skin surrounding the nipple or breast skin Redness or …
Popping Biscuits and PTSD
*Content may be upsetting to some. Please read with caution. I opened a can of biscuits, all by myself!! Doesn't sound like a big accomplishment, does it? To almost 8 million Americans, that simple task could have meant DAYS in the protection of a dark room on high alert. Seems crazy, right? My name is Bridget and I live with PTSD (Post Traumatic Stress Disorder). Here's my story and what I want the world to know… I am a survivor. Make no mistakes, I spent 23 years as a victim living in disgrace, ashamed of what I had been through, …
Pride
Pride is defined by Dictionary.com as confidence and self-respect as expressed by members of a group, typically one that has been socially marginalized, on the basis of their shared identity, culture, and experience. Pride to me is a sense of freedom and expression, much like our constitutional right and first amendment: Freedom of Speech. It took me some time to understand the power of pride, being that I "came out" at the age of 16. However, after experiencing my first Pride Parade that same year, it really hit home. These people, my people, celebrating all day and night about Love. …
Staying Social
Staying Connected. Staying Social. Sharing the latest news, videos, career information, photos, events, thought leadership, expert articles, and more!
Our people and our culture are what make the TMX Finance® Family of Companies a great place to work. Check us out on our social media pages to get a glimpse of what it's like to work with the best of the best.