TMX CARES
We believe in helping people and have made it our business to care for our many communities. TMX Cares is our community involvement and volunteer initiative dedicated to supporting all of the communities in which we live and work. And if you do the math, that's over 1,100 communities in 15 states across the country! Our Company is committed to partnering with our team members to engage in and help strengthen our communities.

We are a team. We are one. We are the TMX Finance® Family.
The TMX Cares Fund allows our team members to help other team members experiencing extreme financial hardships due to unexpected and critical family crisis' on a regular basis, not just during a natural disaster. We hear about our very own team members facing severe medical issues or that they have lost everything to a house fire, and we want to come together and offer support. We will not let our team members face these dire situations alone. We are family and we are here to help.
#HelpingOurFamily
Giving Back
We are committed to improving the quality of life in the communities where we do business. From collecting toys for children during the holidays to having a book drive to support a local school system, we strive to be responsive to the many different communities we serve. We support numerous programs and services as well as partner with national groups to help make a positive impact that matters in our local communities. We achieve great things when we work together as one!
Check out just a few of the initiatives that helps our communities thrive.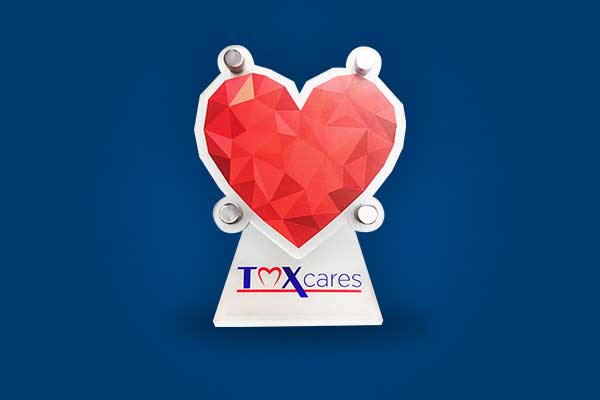 THE HEART AWARD
The Heart Award embodies our mission of helping people. It's at the very "heart" of what we do each and every day. However, there are some who go well beyond what is expected and they achieve more because of their extra effort to help others.
All participating stores and corporate departments are eligible to receive this recognition, which is awarded to the store and the corporate department that raises the most funds during a TMX Cares community initiative. Together, through our many efforts, we are able to make a significant impact on our communities, helping the people who need it the most.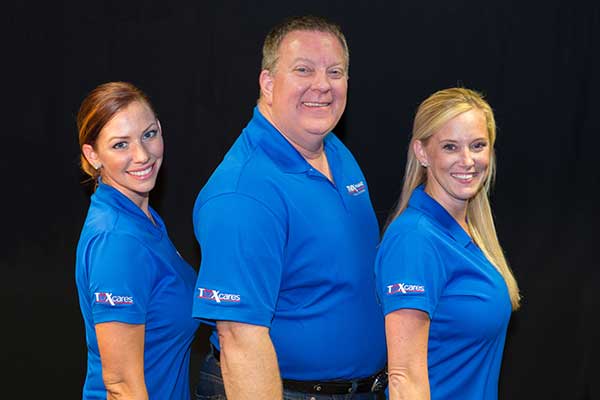 WEAR YOUR HEART ON YOUR SLEEVE
We admit it. We wear our hearts on our sleeves when it comes to our TMX Finance® Family and our many TMX Cares community initiatives! We're open and honest about our feelings towards our team members and for giving back to our communities- WE LOVE IT! The "Wear Your Heart" shirts can be purchased by clicking below and the profits we receive from each shirt or item go directly to our TMX Cares Fund. We encourage you to wear these shirts at our community events to not only represent our Company, but by wearing our hearts on our sleeves, we're letting everyone know how much we love giving back to our communities. It's at the very "heart" of what we do every day!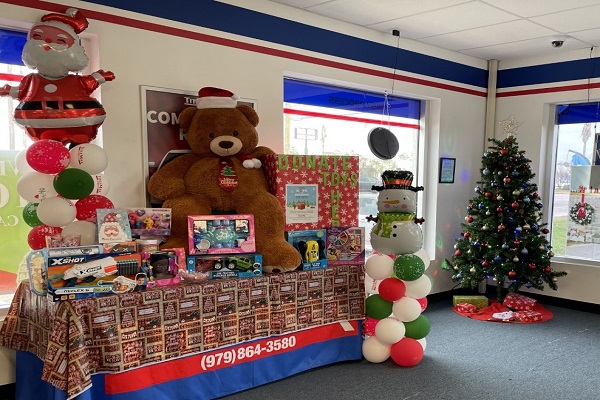 DELIVERING HOPE FOR THE HOLIDAYS
The holidays can be a very difficult time for many families. During the months of November and December, we work extra hard to bring in donations of unwrapped toys to help make children's holiday wishes come true! We partner with Toys for Tots®, The Salvation Army, and local churches in many of our communities where our stores and corporate locations serve as donation drop-off points during the holiday season. We have an extra soft spot for children and we've made it our goal to make sure as many children as possible have a wonderful holiday!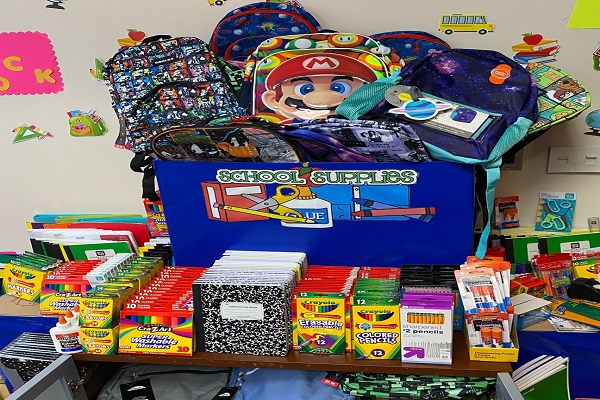 BACK-TO-SCHOOL SUPPLY DRIVE
Every summer, we work to give children in need the tools they need to succeed with our Back-to-School Supply Drive! Our 1,000+ stores and two corporate offices nationwide come together to support children in our local communities. All items donated go directly to school districts, churches, or after school programs.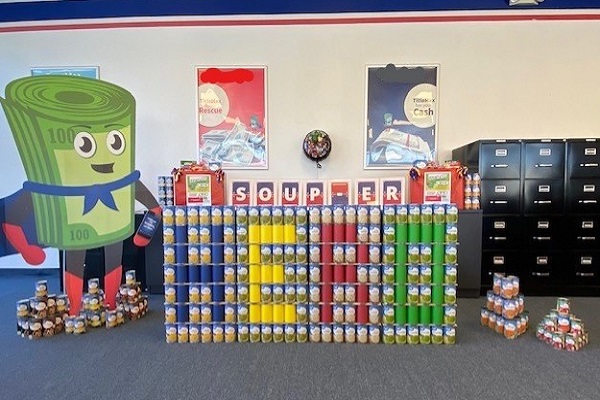 FEEDING OUR NEIGHBORS IN NEED
Our Company operates stores in states that have been ranked in the top 10 nationally for having high hunger rates; so each year in October, we host our annual food drive and donate locally to food banks, after school programs, and shelters. To collect as many non-perishable food items as possible, we've held a "Can-struction Challenge" where we collect food items and then build a structure from the donated items as well as a SOUP-er Hero donation box decorating contest. Not only do we have fun working together and competing, we also bring awareness to our neighbors who are facing food insecurity.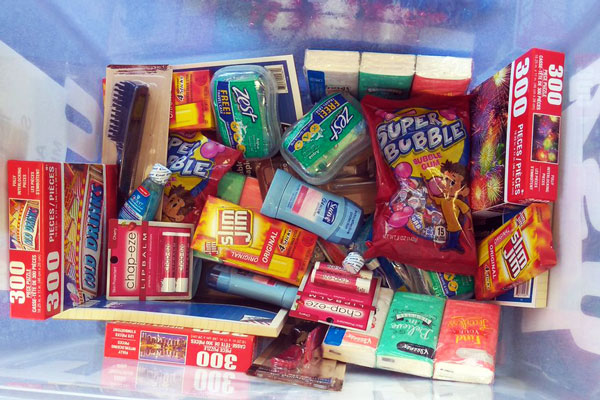 MILITARY CARE PACKAGE COLLECTION DRIVE
May is Military Appreciation Month and we express our gratitude for those currently serving, veterans, and their families by partnering with local military support organizations across the country like Operation Gratitude®, local USOs, and Veteran Hospitals and Military Medical Centers. All our store and corporate locations work together to bring in donations of wish list items that can be sent in care packages to U.S. Troops, First Responders, Veterans, Military Families, and Wounded Heroes and their Care Givers. While the items may be small, our impact is huge!
TMX Cares Stories from TMX Talks Blog
I'm Human, Just Like Everybody Else
I have had the privilege of living with my sister-in-law, Bridget Jones, since 2004. Bridget has Down syndrome, which makes her not only special, but extraordinary. She is full of love and cheer. Guess what? She is more like me and you than you know. Instead of me telling you everything about her, let's hear directly from Bridget! "Hey everybody, my name is Bridget Jones. I'm 47-years-old. Many people don't understand what I'm all about, why I'm special. I'm human just like everybody else. Most people know that I am famous for that movie named after me, do you know …
A Mammogram Saved Me
Back in 2003, I joined Susan G. Komen to get involved and raise awareness after reading her story. I participated in walks, wore a pink scarf during the month of October, tied a pink ribbon to my phone, and read about developments. I remember a former co-worker asked why I have the ribbon on my phone, and I explained it's to bring awareness to breast cancer; initially, she thought it was because it had something to do with me, a family member, a friend, etc. Well, at the time, no; I was just being an advocate. I was in my …
The TMX Finance® Family of Companies Back-to-School Supply Drive Delivers Thousands of Supplies to Students Across the Country
Savannah, Georgia (August 2022) – The TMX Finance® Family of Companies recently concluded their annual Back-to-School Supply Drive donating essential school supplies in the Company's many cities of operation across the country. In a two-week donation campaign, Team Members from more than 950 store locations and two corporate offices in Savannah, GA and Carrollton, TX along with their customers and community partners rallied together to generously contribute much needed items to students and families experiencing hardship. Collectively, the Company provided more than 88,000 school supplies to roughly 460 schools and non-profit organizations across the Company's footprint to help ensure local students have …
Autism is Not My Identity
My name is Hannah Reen and I'm 22 years old. I've been with the Company for almost six months and work in the Savannah corporate office as the Multi-Media and Content Producer. I have autism. People often describe individuals with Asperger's Syndrome as people who are on the "higher functioning" side of the spectrum. In relative comparison, that is true. Autism is a spectrum that includes different types, or "levels," to categorize and appropriately identify a person. So, in a sense, I am "higher functioning" than others on the spectrum that deal with different cognitive development issues. However, at the …
Light It Up Blue
Our days begin the same: early alarm, school clothes picked out, Fruity Pebbles or something similar, and then rushing out the door all the while forgetting to "style" his hair or some other morning crisis that we discover after pulling out of the driveway. The conversations on the way to school are usually endless about Pokémon, Minecraft, or the current video game of choice. The rare quiet mornings are because of late nights watching Star Wars or needing to finish our Lego War. While the "Ground Hog Day" feeling is ever present, the routine is very important. Rowan was diagnosed …
Touched by Autism
My name is Shelley Hotchkiss, and I am a District Director of Operations in St Louis, Missouri. I've just celebrated my one-year anniversary with our wonderful Company in March and I'm grateful for this opportunity to share another title I'm proud to hold: "Molly's Mom." Becoming a mom is hands-down the greatest thing I've ever done. My daughter, Molly, is the center of everything I do. She is my "Why." Molly was diagnosed with high-functioning Autism Spectrum Disorder (ASD) when she was nine-years-old. Autism is rarely a single diagnosis; Molly also has Attention Deficit Hyperactivity Disorder (ADHD) and Anxiety and …
Staying Social
Staying Connected. Staying Social. Sharing the latest news, videos, career information, photos, events, thought leadership, expert articles, and more!
Our people and our culture are what make the TMX Finance® Family of Companies a great place to work. Check us out on our social media pages to get a glimpse of what it's like to work with the best of the best.