Submitted by: Schelley Roessler, General Manager
My name is Schelley Roessler and I'm 38 years old. I'm a wife of 12 years and a proud mom of Callie, 10 and Camden, 9. In August 2010 my life was turned upside down for me and my family. I have always had health problems, but never did I think the worst of it would start at age 29.
I had my daughter and son only 14 months apart. I had terrible pregnancies and my doctor thought that having children in a closer year span would help with my endometriosis after having children. However, that was not the case and I continued to have issues. I talked to my doctor about several alternative options. We decided the only option that seemed best for my health was a partial hysterectomy.
I had my surgery and seemed to be doing better for almost a year. In December of 2011, my issues returned and my doctors weren't sure why, so the next step was to find out the cause. After taking a pelvic and abdominal scan, I received a call the very next morning at 9:00 A.M that they had found two ovarian masses. They said the masses were what was causing me so much pain, now the source of my symptoms seemed to make sense.
The doctor wanted me to take a CA125 blood test, which came back with an elevated number. She then ordered a few more tests and we soon got another call to visit the office. My doctor explained that she could see "something" during her scan. We met with the Gynecologist and he told me one of the tumors had grown in size and my options were limited. Full invasive surgery would now be required. If the cyst was confined to just the ovary, he would only remove that specific ovary.
Next thing I remember, I was going back to the hospital and having a full hysterectomy. My surgery was scheduled to take one hour. When I woke up in the recovery room, I learned the surgery had taken 4 hours. Before I made it home from my recovery, I was already in horrible pain. The gynecologist called and explained that he needed to see me first thing the next morning along with two other specialists. My husband and I went in together and a group of doctors explained what had happened during the surgery and told me the tumor removed was malignant and confirmed the tests. It was ovarian cancer.
I cried in my husband's arms in disbelief and asked how that could be??? I just had a partial hysterectomy to prevent this from happening. The doctors explained that I needed to start a small dose of a chemo pill to start the process.
I was feeling angry at the world, but soon realized I was going to change the "C" word. I was trying to stay strong but it was difficult trying to hide my pain and mental state from my husband.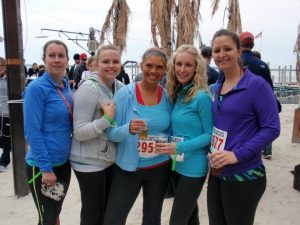 I needed an outlet, so I started to train the month prior to my chemo was set to begin. Running helped me release my emotions and helped me learn to deal with what I knew was going to be a very scary and tough road ahead.
My friends and family ran with me for my first 5k to support my fight with this silent killer. I may have wanted to quit or give up, but just like my previous few months of wanting to give up, I remembered I couldn't help find a cure if I wasn't here. This picture is probably one of my most proud moments prior to beginning my chemo.
I was ready to start living my life with my kids, husband, family, and friends. A few ups and downs, but nearly six years later I'm healthy and loving every moment! I'm working on healing myself so I can be the best I can be for my family and my career. Sometimes you lose hope and faith, but no matter how big or small, if you don't feel right- trust your body. As of now, there is no cure to ovarian cancer but many preventive tests.
Since my last surgery in 2012, I had to be put on a few medicines and I had to start a small dose of oral chemotherapy as a maintenance drug. After another 3rd round, I was taken off meds so my body had time to heal. My side effects were shockingly mild. I now see an oncologist every 3 months. They do blood work and lab exams to see where my CEA (cancer cell levels) are. If they are elevated my team of specialists orders necessary blood work. I'm thankful for the quick reaction of my doctors and the support from my family.
I have recently started speaking at churches, colleges, and most recently at a health and wellness event. My hope in sharing my story is to encourage women to trust their intuition and act on it when something doesn't seem right with their body- even when symptoms might be brushed off by the medical experts.
I am very thankful and blessed to beat the odds. I'm currently in remission and continue to live my life to the fullest!
Here is a picture from my most recent wellness event! This bump in the road didn't stop me and I won't let it take me away from my loved ones.