Submitted by: Misty Edwards, Senior Treasury Analyst
On March 15, 2015, Misty Edwards, Senior Treasury Analyst for the TMX Finance Family of Companies, received news that would turn her and her family's life upside down. She had to hear four of the scariest words no parent ever wants to hear – "Your son has cancer."
Misty had taken her son Cole to the doctor for what she thought was just a cold. However, the doctor immediately sent Cole for testing and that's when everything changed. "Hearing that your 19-month old son has cancer was beyond anything I could have imagined. Then we were told he had an extremely rare form of liver cancer called hepatoblastoma and that the tumor was in an advanced stage. Our world literally came crashing in on us."
Cole began treatment on March 24, 2015 and after completing his first week of chemotherapy, he proved to be a mighty little fighter, always keeping a smile on his face. "It truly broke our hearts to see our baby so miserable. We knew we had a long, hard road ahead of us, but we knew God had a plan for our journey and we would have to remain faithful that everything would be okay."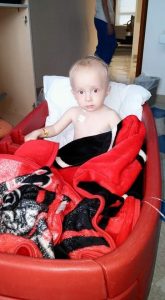 Cole's journey was tough especially for a 19-month old who didn't understand what was happening, but he was truly a super hero! He smiled through blood transfusions, chemotherapy, hospital stays, countless CT scans, and surgery. And it all worked! Surgeons were able to remove all of the tumor and on July 23, 2015 Cole was officially in remission! Three days later, he celebrated his second birthday like a super hero.
In December of 2015, Cole was declared Cancer Free! "I never thought much about that 6 letter word that is now so common in our lives. I still remember those first days after finding out and the feeling like it was just yesterday sitting in the hospital waiting and watching Cole go through so much and wanting to wake up from that nightmare. But our little super hero is three now and growing and thriving and I am so thankful to see his smile every day. We had so many people who were right there with us during our journey, especially my TMX Finance Family."
Flash forward to today, Cole is now 5 years old, 3 years Cancer Free, and has started Kindergarten. Even though his life saving treatments have caused a host of other problems, such as migraines and hand, feet, and back pain, he is still the happiest boy!
Misty and her family are huge supporters of CURE Childhood cancer and participate in several of the organization's events throughout the year. "CURE was a blessing to our family when Cole was going through treatment. We do everything we can to try and raise awareness and funding to support childhood cancer research. We will help win the fight so that one day soon, no parent will have to make this journey!"
During the Month of September, Childhood Cancer Awareness Month, Cole helped turn the town GOLD! Supporters could pre-purchase gold mailbox ribbon from CURE Childhood Cancer and pick Cole as their team captin. Each supporter had their bow hand delivered and autographed by Cole. The money from each purchase goes back to the CURE Foundation to fund childhood cancer research.
You can keep up with Misty and Cole on the Facebook page: Fighting for Cole.