Do you remember riding a bike? Close your eyes and imagine it. Can you feel the wind in your face, the sunlight on your skin and the freedom of being on the open road or racing through a nature trail?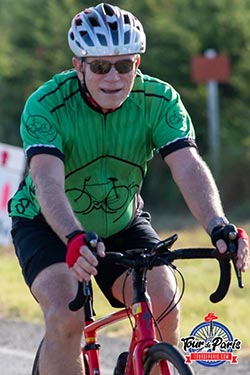 You can mount a bike, put on a helmet, and hit the ground peddling, but some people can't. Think about your grandmother who loved riding a bike as a child or a friend you know with a physical disability. Chances are, they can't easily ride a bike. After watching a video of European volunteers cycling the elderly, disabled, and sick around a city, the TMX Finance® Family of Companies' User Experience Designer, Randy Jeter, hoped there would be a local Dallas, Texas group he could join doing the same. "Turns out a local resident named Shannon Catalano had the same dream, but followed through to form a non-profit, get funding, and buy the first wheelchair adapted bicycle," he said. "I've been an avid cyclist for several years, riding nature trails and social rides, endurance events…or just to the neighborhood coffee shop." He signed up for Lone Star Wheelers, and after orientation, gave some of the first rides. "I thought this was a great way to combine the desire to give back with my love of cycling," he said.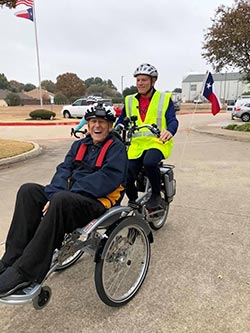 Lone Star Wheelers is a free, safe wheelchair bicycle ride service. Although the organization operates out of DaySpring Senior Living in Plano, Texas, nonresidents can ride, too. Jeter and the Lone Star Wheelers start at DaySpring and head to the adjoining Bluebonnet Trail. The trail offers passengers fresh-air and views: water, playgrounds, soccer fields with children, and a dog park. "I expected to see smiles on the elderly's faces, but I was unprepared for how close we would become to the riders. You get to know their life stories, celebrate their birthdays, and meet their grandkids. Then in the back of your mind, you know that, unfortunately, someday you will show up to give rides and find out one is no longer with us," he said. Jeter added no one knows how many healthy years we have left, so he feels fortunate to take seniors out for a joy ride on Saturdays. "You can make more money, but you can't make more time."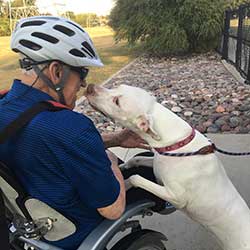 Catalano started Lone Star Wheelers in 2018, but the organization only has one bicycle. Due to the unique construction of the wheelchair bicycles, safety features, and shipping costs from Denmark, they cost almost $7,000 each. They're close to raising enough money for a second one, but their goal is to have at least a dozen.
"It is so easy to focus on negative things in a day. Seeing someone who is missing some abilities we take for granted or even complain about is a wakeup call to appreciate what we have," he said. Here is a testimonial Jeter shared from the daughter of a regular passenger:
"You light up his life! What you guys do gives our seniors opportunities and experiences they would never otherwise have! Mike's still talking about his 5-mile ride! And that Blue Heron fish in the stream!! Wow!? God bless you for all you do! What a ministry!!"
Randy Jeter embodies the spirit and compassion of the TMX Finance Family of Companies. We are committed to improving the quality of life in the communities where we do business by volunteering and giving back. We are a #TMXFamily devoted to showing #TMXCares.