Submitted by: Laura Fain, General Manager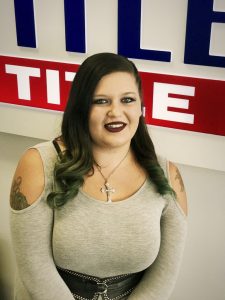 Although I have been working since I was 14 years old, until now I have never worked for a company that cares so much about their employees and helps them become better people in their careers as well as their personal life. My drive and passion for everything I do is beyond this world! I go to great lengths to make sure everyone is taken care of and happy because I know what it's like to feel like you don't have a niche in this world. Being a survivor of domestic violence, I always look for the good in everything because there was once a time I wasn't able to see it, especially not in myself. I inspire others to follow their dreams and aspirations, even if they don't believe in themselves. My career at TitleMax has given me the opportunity for personal growth as well as career growth. I wake up every morning loving where I work and who I am because of the growth that I have experienced.
A long time ago, the world did not seem like a friendly place. I was always being torn down and wasn't being shown any kind of recognition for anything I did. I took a look at the big picture and realized I needed to change my behavior and everything would fall into place. Today, I look at the world as a wonderful place and everyone in it has great things to offer. I now see that every person can teach me something new that I can then bring to the table and spread across my life and my career. I will fight to make a big impact on everyone that I come across and give them a reason to never forget me. My new outlook on the world has opened my eyes to more possibilities.
I refuse to give up, the challenges I face on a day-to-day basis has shaped me into the great employee I am today. I will work towards any goal with full force and I won't stop until I am comfortable with the outcome. I am a warrior and I will always find new ways to better myself, my kids, and my life.