Submitted by: Shannon Beasley, Sr. Director of Corporate Talent Management
Celebrating National Mentoring Month is special to me for a couple of reasons:
First, as Senior Director of Corporate Talent Management, the TMX Finance® Family of Companies' mentoring program – Team Up – is an area I now oversee. It is exciting to be a part of such a rewarding program and understand the importance of the relationships that are fostered as a result! I have participated as a mentee several times and have had some awesome mentors that have coached me through some difficult decisions and offered some really sage advice that has stuck with me far beyond my mentoring sessions.
Secondly, I have also served as a mentor and I love having the ability to pay it forward. Reflecting back to when I had my first mentor at another company in Tampa, FL, before working at the TMX Finance® Family of Companies, I started as an Office Coordinator and then gradually, my manager introduced me to the world of recruiting. I remember him specifically asking me, "Why don't you give recruiting a try?" At the time, it had never crossed my mind. I enjoyed assisting the other recruiters by sourcing candidates for their openings; it dawned on me that I was already doing what they were doing, I just needed to carry things across the finish line!
That manager really helped me to stretch, break out of my shell, and experience a whole new world! If it weren't for him, I wouldn't be where I am today. What I didn't realize at the time was that he wasn't just my manager, he was "mentoring" me and helping shape my future. His advice really stuck with me and put me on my path for my journey with the TMX Finance® Family of Companies.
The moral of this story is that because of my past mentors, I've been so fortunate to have along the way (whether formally or informally), I've learned to understand the value and importance of being a mentor. There is nothing I would enjoy more than to "pay it forward" and help shape someone else's life and/or career!
So, there are two sides to the coin for National Mentoring Month:
Benefits of being a mentor:
Mentoring allows you to reflect on your own career and lead by example.
Mentoring allows you to learn; you have the opportunity to learn from your mentee as they develop their own skills and provide feedback to you on your mentoring skills. If you aren't learning, you aren't growing!
Mentoring allows you to be creative about expanding your skills. Mentoring doesn't have to be limited by weekly or monthly meetings; read a book together, take advantage of online learning opportunities together. Make the mentoring relationship fun for both of you!
Benefits of being a mentee:
As a mentee, you enhance your ability to learn. Being in a mentoring relationship can help you to focus on what to learn and also how to learn. Think outside the box and share ideas!
There is a sense of reciprocity. You not only have the satisfaction of being in a relationship, but also being in a partnership! While you are learning from your mentor, your mentor, in turn, is also learning from you.
The partnership helps build your network! Working with your mentor could help you build upon skills that expand your relationships or connections throughout the workplace.
Your mentorship can help to build your resilience and adaptability in the workplace! Things can change on a dime at the Company and, I think, as a mentee a lot can be learned from your mentor on how to navigate through the changes and be stronger for it in the long run.
You have the ability to gain exposure to other departments throughout the Company, become a better collaborator, and a better business partner!
If you haven't participated in our Team Up Mentor Program yet, what are you waiting for? Read what some of our Team Members think about their Team Up experience: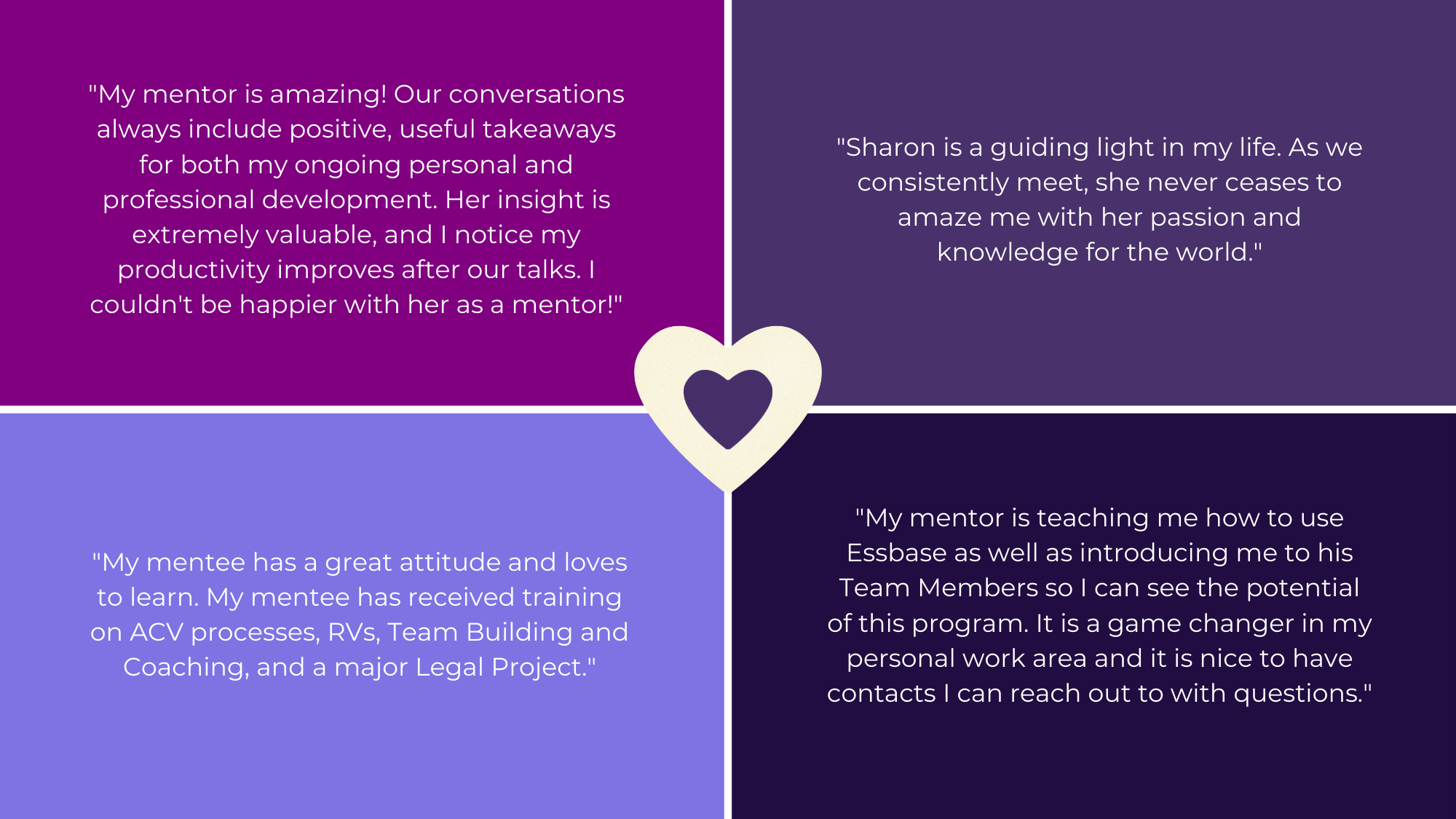 "The delicate balance of mentoring someone is not creating them in your own image but giving them the opportunity to create themselves." — Steven Spielberg
Source: www.mentorcliq.com