Submitted by: Frankie Tijerina, Product Marketing Manager
Life is short. A dog's life is even shorter. Why not fill it with kindness?
For those of you that know me, and my devout love for dogs, it's probably no surprise that I would jump at the chance to volunteer at an animal shelter. I grew up around dogs and developed a deep passion for these incredible animals. It's not unusual to see me running down the street to pet a dog. You know that 'Me When I See Dogs' meme? Yep – that's me! And I have no shame. I'm completely obsessed with everything that makes these furry angels man's best friend!
Dogs have an unyielding enthusiasm for life. You can't dwell on misfortune with a pup around because they will always show you something positive. Our canine companions love us when we don't love ourselves. They don't care about the clothing you wear, your political outlook, your religious beliefs, your social status, or what you post on Instagram. As long as you're nice to them, they'll return that kindness tenfold. Makes you wonder why humans can't be more like dogs, right?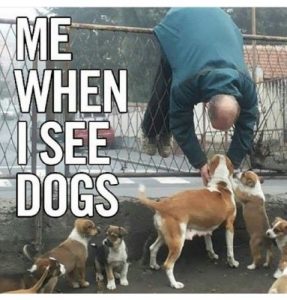 My Experience Volunteering at Operation Kindness
So, there you have it. My dog-obsessed self is sitting at the office, slaying away at emails when I see a Corporate Communication pop up regarding Give Back Day at Operation Kindness, the largest no-kill shelter in North Texas… Shut the front door! I'm sure my team mates would agree that nobody else was more excited about this than I was. Not only would I get the opportunity to help dogs, I'd be joining an organization known for its extraordinary efforts.
At the shelter on June 30th, the TMX crew split up into two teams. You could work outside, clearing brush for upcoming construction on the shelter's new medical unit; or work indoors, engaging with the animals. The second option was a no-brainer. This allowed me to see the entire campus and watch the staff work their magic.
My husband and I spent our time walking dogs and cleaning crates. We couldn't believe how spotless the facility was, despite every kennel being full. We learned that the animals had been rescued, surrendered, or brought in by other shelters that didn't have space or the medical resources needed. Though everyone works hard to provide the best possible environment for the doggos while they await their forever home, it's loud and stressful for them. Each time we brought a dog back inside from a walk and shut the kennel gate, I was filled with sadness as it stared up at me with that 'don't leave me' face.
I was so touched by this experience. I knew once I left the shelter that I wanted to come back and make a larger impact. Because we can't have dogs in the house we're renting, it only made sense that I dedicate my time helping them. I started volunteer training the next day.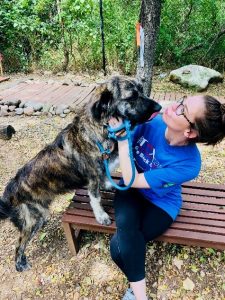 How Can I Become a Volunteer?
If any of this speaks to you, and you're interested in becoming a volunteer, you're a stellar human being. Thank you for dedicating your time to help animals! The process is so simple. Here's how to get started:
Complete the volunteer application and pay a small fee.
Once that's done, you'll get an email with a link to online training. This took me about an hour and a half to complete.
Take a quiz. This took me 15 minutes.
Once you pass the quiz, you'll get another email to schedule an onsite skills I received a tour and educational overview of the organization, followed by hands-on training with the animals.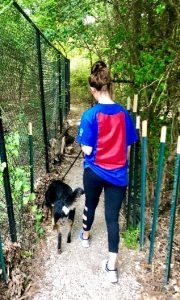 What Would I Do as a Volunteer?
More like, what would you not do? Operation Kindness is a six-acre campus with a medical intake unit and hospital, a huge outdoor recreational area with trails, play pens, etc., running seven days a week. There are full- and part-time employees that work in the shelter, but it largely operates off the support of volunteers. The best part about volunteering is you get to pick your schedule, what you want to do, and do it with your family.
Below is just a few of the many ways you can help:
Fostering
Walking dogs/playing with cats
Doing laundry
Working off-site volunteer events
Cleaning kennels/cages/toys
Welcoming guests
Answering phones
Performing data entry
For more information, visit operationkindness.org/volunteer. You can also reach out to Volunteer Manager Tomi Tucker (she's amazing!) for questions at ttucker@operationkindness.org, or call 972-418-7297.
Thanks for reading and being a part of our #TMXFamily!