At the TMX Finance Family of Companies, women are leading the way. They're mothers, mentors, military veterans, community volunteers, and operators. Our women are leaders.
Read all the interviews we held in our Women of the 20th blog series to learn how they each became the leaders they are today.
---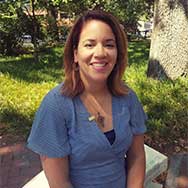 Tell us something unique about your background that makes you, YOU!?
Back in 2008, my spouse joined the military and we moved from Puerto Rico to Fort Stewart, Georgia. Prior to moving, I worked as a legal assistant at law firms that specialized in federal, corporate, and civil litigation matters. I have ten years of experience working as a legal assistant.
What is a little-known fact about you?
My degree is actually in accounting and I love working with numbers. I'm a planner and most people say I'm obsessed with being organized, which might drive some people crazy! But, I consider myself a person that gets the work done.
What advice would you give to someone starting their career journey with our Company?
For a new team member starting, I would advise them to always be a team player, be flexible, and be open to shifting gears as needed.
What is your biggest passion?
My biggest passion is my family and being an example for my kids.
Who do you think has had the largest influence on the person you are today?
My family and my friends keep me grounded.
Is there anything else we should know about your journey to success?
I believe hard work and a positive attitude goes a long way.