At the TMX Finance® Family of Companies, women are leading the way. They're mothers, mentors, military veterans, community volunteers, and operators. Our women are leaders.
Read all the interviews we held in our Women of the 20th blog series to learn how they each became the leaders they are today.
---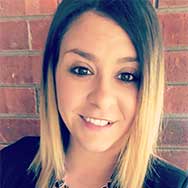 How has your time at the TMX Finance® Family of Companies been special?
My time here has been special because I've had the opportunity to work with the best people in the industry who really take pride in training and developing anyone who is willing to learn. I've learned so many skills and have had unending support in my journey to further my already successful career.
What is a little-known fact about you?
Most people in my career don't know that I went to school for photography and I wanted to be a graphic artist. Somewhere along the way, I came into finance and I haven't looked back! I've recently been nominated to partake in the Step Up Program for Hi-Potential team members at the Dallas Corporate office. I am beyond excited to be recognized and given the opportunity to really be coached on the next steps of my career.
What advice would you give to someone starting their career journey with our Company?
The best advice I could give would be to never doubt yourself, there's no limit to how far you can go within this Company. Be patient with the learning process and gather all the knowledge you need to keep moving forward.
What is your biggest passion?
Raising my daughter is definitely my biggest passion. Which is why I love this Company so much. It has provided me with the access to show my daughter to be strong and independent. It's also provided me with the stability and sufficient income to solely provide for her, which has always given me that extra push to continue to thrive within my positions.
Who has been the most influential person(s) during your career?
My mother has always influenced me the most. As a single mother herself, she always showed me how to be self-sufficient and strong. As my biggest supporter, she's always believed in my goals and has always done her best to help me achieve them. Aside from my mother, I've had several amazing managers and co-workers who have trained and guided me along the way in my career. I've been extremely fortunate in the amount of influential people I have come across in my life.
Is there anything else we should know about your journey to success?
I've had the opportunity to help others grow, such as Store Managers moving into General Managers positions. There is no greater feeling than seeing your peers succeed alongside you. I hope to continue to learn as much as possible so I can share my knowledge and help others succeed and further their careers. I look forward to continuing this amazing journey and meeting any and all challenges as they arise!