At the TMX Finance® Family of Companies, women are leading the way. They're mothers, mentors, military veterans, community volunteers, and operators. Our women are leaders.
Read all the interviews we held in our Women of the 20th blog series to learn how they each became the leaders they are today.
---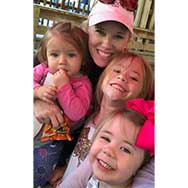 What has been one of your most empowering moments at TMX Finance® Family of Companies?
This is a really hard question because I have truly had so many! One of my favorite moments was when I had the opportunity to help build a new division of the Company from scratch and then watch it grow and flourish.
How has your time at the TMX Finance® Family of Companies been special?
Getting to know and work with some of the most amazing and talented people has been a wonderful experience. I get to work with some of the most talented people in their fields and it has been a great learning experience as well as very rewarding.
What advice would you give to someone starting their career journey with our Company?
Be yourself and have fun! If you work hard and have passion, the world is your oyster here.
What is your biggest passion?
My biggest passion are my three girls! They are my reason for everything. I want to show them that women can have it all, it takes hard work but if you are willing to do it, then you can have it!
What do you think has had the largest influence on the person you are today?
Joining this Company. This is where my fire got ignited and where I have been allowed to be myself, work hard, and get rewarded for it.
Is there anything else we should know about your journey to success?
I have enjoyed the entire ride! Even during the challenging times, I learned to work hard and to get the big wins. I have learned so much both personally and professionally during my time with this Company.