At the TMX Finance Family of Companies, women are leading the way. They're mothers, mentors, military veterans, community volunteers, and operators. Our women are leaders.
Read all the interviews we held in our Women of the 20th blog series to learn how they each became the leaders they are today.
---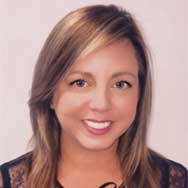 What has been one of your most empowering moments at the TMX Finance Family of Companies?
I would have to say my most empowering moment was when I participated in a mock interview for the District Director of Operations position led by Jim Vaughn. It was an experience that I will never forget and the feedback I received has been invaluable. I feel as though this opportunity has left me with a great deal of knowledge, new goals, and most of all, EXCITEMENT!
Why is your time at the TMX Finance Family of Companies special?
My time working for the TMX Finance Family of Companies has been very rewarding and quite the wild ride! I joined this Company as a Customer Service Representative and within two years, I worked my way up to General Manager. Looking back on the past four and a half years, I can't help but to reminisce about the people I have helped, the amazing friendships that developed, and the challenging situations that helped to shape me into who I am today.
What advice would you give to someone starting their career journey with our Company?
The best advice I can give to someone starting out with the TMX Finance Family of Companies is to immediately start setting goals for yourself and your career. Be vocal about them and make your goals known! This Company is amazing at developing team members and giving them the necessary tools to be successful. It is also extremely important to remember to have fun! I truly believe I have been successful because I have a good time while working. You should take the time to get to know your co-workers, plan activities outside the office, celebrate birthdays, etc. Having good energy in your office will only help you grow your business and build an unstoppable team.
What is your biggest passion?
At this time in my life, I am extremely passionate about making the most out of every second of my life. I want to create a life for myself that I can look back on and be proud of. A life full of good music, great views, laughter, and love.
Who has had the largest influence on the person you are today?
My Mom has had the greatest influence on me by far and has shaped me into the person I am today. She has taught me everything I know. It was instilled on me at a very young age to treat others the way I would like to be treated. Her work ethic to this day is that of a machine! I have no idea how one women can play so many roles at once, but I do know that if I am half the women she is, I am one lucky lady.
Is there anything else we should know about your journey to success?
This is only the beginning!