Written by Julie Feldman, Sr. Director of Corporate/IT Recruiting, and Shannon Beasley, Director of Corporate Recruiting
In this day and age, it truly is about WHO you know, not just WHAT you know. The name of the game is NETWORKING! And the TMX Finance® Family of Companies is following the trend. With the introduction of RolePoint, the TMX Finance® Family of Companies Referral Portal, the team has increased hires made from referrals with 34 job offers in the last 6 months! That means that YES, your online and professional network can actually help you find a job!
LinkedIn and Facebook have nailed the market of online networking. LinkedIn has over 467 million users worldwide, with two new users joining every second. Meanwhile, Facebook has 1.86 billion monthly active users.
That is a LOT of networking and connecting opportunities! In fact, our Corporate Recruiters use LinkedIn nearly 100% of the time when looking for the perfect candidate, and we all have our own professional profiles to help us find and attract potential candidates for the organization. We also use Facebook daily to search for potential candidates and to connect.
Do not be intimidated by networking; it is all about communication, whether in person or online.  Talk to everyone and anyone about what you do, what you like to do, and what you want to do. You are surrounded by people every day; at work, at lunch, the soccer field, the tennis courts, in the elevators, you name it. So take advantage! You can also connect with companies and other professionals through social media outlets like SnapChat, Twitter, and Instagram.
 Introduce yourself!
Get your points across quickly but remain engaging.
Remain aware of yourself – be mindful of whether or not you're losing your audience, standing too close, or talking too much.
Exchange contact information.
Keep your resume updated.
Maintain a LinkedIn profile that represents your professional life and your personality.
Follow up and keep in touch with the people you meet while networking.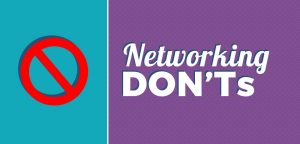 Don't be intimidated – there's no need to be afraid to reach out to people that you don't know.  A stranger is just a friend you haven't met yet!
Don't speak to just one person and call it a day– the more people you connect with, the better.
Don't be afraid to ask questions.
Don't interrupt and risk missing an opportunity to learn something new.
Avoid overzealous self-promotion – networking is about listening, too!
Don't forget to follow up – this is so important, we're saying it twice.
As recruiters, we connect daily with candidates in person, over the phone, and online. When it comes to networking, whether in a professional or informal setting, just remember that every person you connect with is a chance for you (and them) to potentially change each other's lives!