Submitted by: Heather Sueirro, Senior Talent Strategy Manager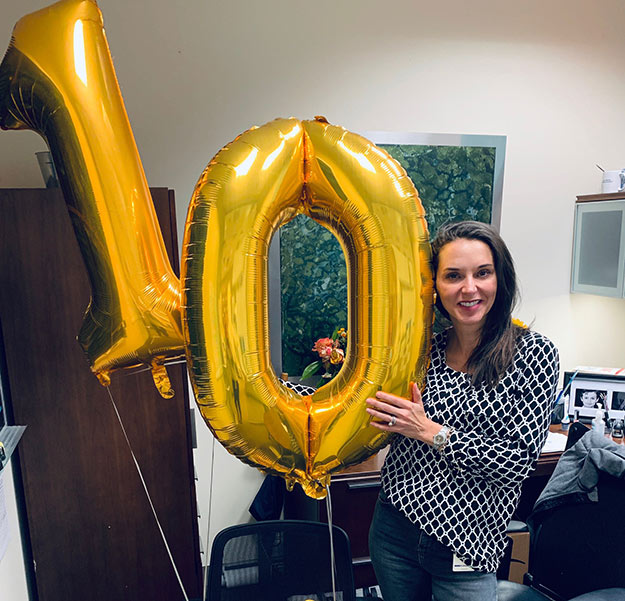 Not many know Kate Andersen, Director of Succession Management, started her career with TMX Finance® Family of Companies over a decade ago as a recruiter. Now, Kate oversees our Talent Management and Workforce Planning team, which plays an essential role in the development and succession of the Company's high potential talent. Their focus is on preparing field leadership and multi-unit leaders for their next big step with coaching, mentoring, and providing a comprehensive development plan. Kate's strategy lies in finding opportunities for these future leaders to gain exposure through identifying stretch assignments (a project or task that is currently beyond your level of knowledge or skill to enable you to "stretch" developmentally to learn and grow) and activities that will build and showcase individuals' strengths.
"From years of speaking with strong individuals and strong performers that have a leadership mindset, I'm able to share their knowledge with our talent ready for their next level. Our team impacts so many lives because we are able to push people out of their comfort zone and into their goal of promotion within the Company. Watching them grow and put their mind to something—and conquer it—is my biggest reward."
Last year, you celebrated a 10 Year TMX Finance® Family of Companies Milestone! How would you say you have you grown throughout the years?
"Eleven years, now! I started as a recruiter when we had about 400 store locations. [TMX Finance® Family of Companies currently has almost 1,300 store locations in 16 states.] It was such a fun and exciting time that prompted a lot of hiring! From Recruiter, I was promoted to Recruiting Manager over specific states and territories, then promoted to Senior Recruiting Manager over an entire team who focused on specific zones. We worked to grow what is now a world-class recruiting department."
"I was then promoted to a role new for the Company and myself, Senior Recruiting Diversity Manager, where I devoted my time to thinking strategically about diversity hiring. It involved partnering with our Regional and Senior Vice Presidents on getting our stores staffed with, not just 'people,' but diverse talent that reflected the demographics of our markets."
"What I learned from diversity recruiting led me down the path of researching mentorship and bringing a mentoring program into our organization. That's when I moved to our newly developed Workforce Planning team (a very smooth transition!). I had hired talent for many years, here and with previous companies. Now, I had gained the opportunity to work with the talent we already employ and get them developed into our future leaders with a focus on their career goals."
"It's still as fun and exciting as it was 11 years ago, but the Company has grown to be much more #TalentObsessed. We have grown leaps and bounds in our selection of talent and our keen focus on development has become instrumental to the success of our people and Company."
How would you describe your team and what makes each of you work well together?
"The majority of my current team and I have worked together for years in our Talent Acquisition department! I know their ability to strive for the best and, in turn, get the best out of people. We communicate well; we operate as a team to share ideas, discuss challenges, and how we can work together to overcome them. There is also a strong bond of trust which lets us know that we have each other's backs and are happy to step in when need be.
"Overall, we are people obsessed! On this team, you have to enjoy people and enjoy listening and talking through their challenges. We all have a strong desire to help people and be patient with their process."
What have been some of your most empowering moments with the Company?
"I would have to say seeing our development programs work for the people in our Company. We have the opportunity to watch someone grow into themselves – to become better people, better leaders, and reach success in their goals. The talent that we work with are so remarkable – they work so hard for the Company, others, and themselves. They give 'that extra degree' at all times. We may watch them stumble, but then get right back up and conquer. It gives us so much joy to watch an individual fight for their dream career and continue to push themselves to the next level. Seeing others succeed is what we are here to do and that is what motivates us every day."
How has the Company supported you throughout your career journey?
"The TMX Finance® Family of Companies has always been supportive of the talent that you bring to the table. They will mold you and develop you into the leader that you want to be. You just have to want that and bring the drive! [Our Chief People Officer,] Lindsey Reed Smith understands people, understands potential and will give you all she can to get you there, to push you to the person she knows you can be."
What has made your time thus far at the TMX Finance® Family of Companies special/impactful?
"I would have to say the relationships. I have made lifelong friends here. We have laughed, cried, jumped for joy and I get to do that with so many special people. Not just with people here at corporate, but with friends and mentors I have developed across the country as well."
What has been your proudest accomplishment as a leader within the Company?
"Being part of and building Team Up, our mentor program! Otto [Bielss] had a vision for the future of a mentor program because he was able to have special mentors in his career that got him to where he is today. Because of that, he wanted to provide that same experience to our Team Members. Launching Team Up and seeing the success and the stories from the program is a large accomplishment that I am proud I get to be a part of."