Submitted by: Heather Sueirro, Recruiting Manager
Advances in technology have made it easier for you to find and apply for your dream job, but fitting an interview into your already busy schedule can be difficult. One technology advancement that helps with this issue is the video interview platform. Major employers are using this in addition to, or as an alternative to, the traditional interview because it widens their candidate pool and helps to fill their positions faster. Because most potential employees complete video interviews outside of normal business hours, the convenience of interviewing virtually is unmatched and a time saver for both parties.
A video interview is certainly convenient, but you may be wondering, "How do they work?" In most cases, there are two types: live and pre-recorded. A live video interview works similarly to the flow of a traditional face-to-face interview, where both you and the hiring manager are communicating with each other at the same time via the video interview platform. On the other hand, the pre-recorded interview offers pre-made questions that you record yourself answering on your own time. It's important to remember that both options may rely on body language, facial recognition, and voice tonality, also known as "artificial intelligence" to assist in determining your suitability for the position or company. Essentially, to have a successful video interview, you should follow many of the same rules that apply to a traditional interview.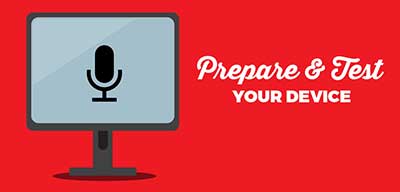 Just as you would prepare yourself for a traditional interview, so should you prepare yourself for a video interview. As soon as you have been asked to complete a video interview (live or pre-recorded), test the camera and microphone on the device you plan to use – smart phone, laptop, tablet, etc. Make sure the virtual interview platform is compatible with your device and download any additional programs you may need for it to run (the recruiter or hiring manager should have provided you this information). For live, scheduled interviews, arrive in your virtual interview room at least five minutes prior to your appointment time in case there are any glitches. For a self-guided, pre-recorded interview, it is best to complete it within 24 hours of it being requested to maintain a sense of urgency. Your punctuality is one of the many items an employer will take into consideration in the selection process.
You must also set the scene for your video interview to be successful. The convenience of a virtual platform allows you to complete the interview anywhere – but it is better to complete it in your own home. For best results, sit in front of a simple backdrop, like a clean wall, with your device in front of you along with ample lighting in the room that allows enough light to hit your face so the employer can see your expressions clearly. (Essentially, don't sit in front of a window that has light coming through it or you will be backlit!) You want an environment free from distractions, so make sure you can control the noise level and any interferences like dogs barking, phones ringing, or other people walking into the video.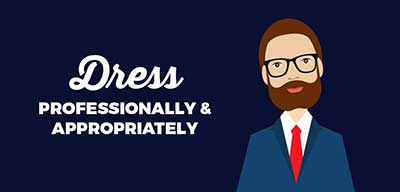 You and the hiring manager are trading a firm handshake and a hard copy of your resume for reasonable lighting, a distraction-free backdrop, and a working device. However, you will want to dress professionally and appropriately for the video interview. Just like the traditional interview, this may be a first impression and it is best to come across as a polished individual. You can never go wrong with business professional dress: well-groomed hair, a clean and wrinkle-free blouse or button down shirt, and a blazer or suit jacket. Many front-facing cameras will showcase you above your waist so you're free to be comfortable from the waist down. It is recommended that you don't add any gaudy pieces of jewelry that may be oversized, distracting or noise-making since you want the interviewer to focus on you. Unless you're applying for a company that supports working in your pajamas, you'll look and feel successful in the right clothes.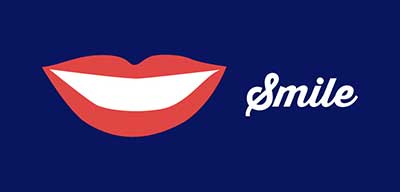 The most consistent tip out there for a successful interview, either virtual or traditional, is to smile. Your mood, speech, and level of enthusiasm are all things that will feed into the analytics a video interview may use to help determine if you're a good fit for the position. While you want to maintain your professionalism, you should showcase your excitement and interest in the position for which you're applying. Without reading directly from a hard copy of your resume, talk about some of your career highlights and successes. You may not know the questions for the video before you get started, so brush up on some common situational interview questions, as well as what you can bring to the table. A tip for the shy interviewer: think about a subject that motivates you and discuss it with a friend or in a mirror by yourself before the interview. It's an easy way to pump yourself up and increase the level of passion you exude in the interview.
The best thing to remember: you're interviewing for the position you want and deserve. As technology quickly advances, more companies will be adding virtual interviewing to their application process. Video interviewing will inevitably replace traditional interviews because it is convenient in a competitive and fast-paced job market. So use the steps in this post to set yourself up for the best possible outcome if you've been asked to participate in a video interview. Good luck!