Submitted by: Lori Hindman, GM Certified Trainer
In 1981, at just 17 years old, I decided I wanted to go into the Army National Guard Military Police Unit located in my hometown. I remember going to my parents and telling them I wanted to join and serve my country. My father, a Korean War veteran, was very proud I decided to take control of my life and was honored that I wanted to follow in his footsteps and join the Army. Both of my parents had to sign for me to go because I had not turned 18 years old yet.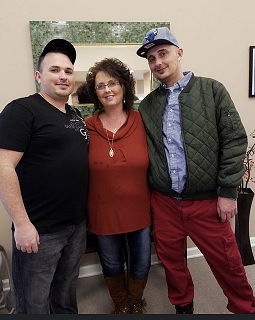 The training and discipline instilled in me at such a young and impressionable age was instrumental in making me who I am today. When I was asked to write this blog, I was honored, but also felt less deserving because of all the men and women in today's military who have extraordinary stories. Back when I joined, I knew I would be helping anytime a natural disaster occurred and aiding in the communities whenever needed, but the thought of going to war truly never entered my mind. War was something from the past that I read about in my history books, and although I always knew it was a possibility, I never thought I would see it come in my lifetime. But many years later after serving, after my marriage and having children of my own, the call did come.
After 9-11, I remember my two teenage sons, one about to graduate high school and the other one year behind him, standing in the middle of our living room telling me they were going to serve their country and sign up at the Recruiter's office. I remember a natural fear swept over me because of what was happening in the world at that time, but also the overwhelming feeling of being so proud of them. I was proud that my two sons wanted to make a difference and fight for the honor and freedom of our nation, knowing they would most likely be heading off to war.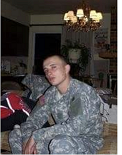 My oldest son, Miguel, joined the Marines. My youngest son, Joseph, joined the Army. Both served overseas in Iraq. When my oldest son went on his first tour, I remember being so scared and waiting for the phone to ring or the email to come that told me he was alright. There were times we were on the phone and the unit sirens would start blazing in the background. "Mom, I have to go take cover, I will email you soon if I am ok," and then he would hang up. That was one of the worst feelings in the world, waiting to hear from him and remembering he said the word "IF". Thankfully he was okay, this time. Several months later I received a phone call from my daughter-in-law, frantic, because my son was injured in Iraq and all they would tell us is that he was taken to a hospital somewhere near Al Taqaddum, Iraq.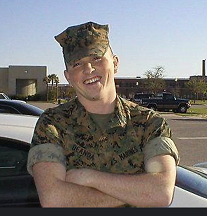 At the time, I was in shock and remember calling my local unit and saying, "Get me over there, my son needs me, parachute me in, whatever it takes." Of course, looking back now, I know how silly that was, but as a mother, it's exactly how I felt. That is how any parent would feel. Eventually, we received word he was being flown to a hospital in Germany, where he spent three weeks with exceptional military doctors who fixed him up and sent him back to his unit in Iraq.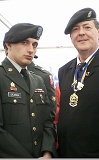 Miguel served two tours. My youngest son, Joseph, was stationed in Germany. His unit would go on special maneuvers at various times over in Iraq. Joseph was also injured on a mission when he fell 12 feet to the ground. After healing from his injuries, he began having severe seizures, which he has to this day, and he was discharged from the military due to his disability. But Joseph, being very strong willed, refused to let this be his demise. He went on to college and works every day, same as Miguel. Both went to work for companies that understand the importance of transitioning from their military career into their new civilian work places.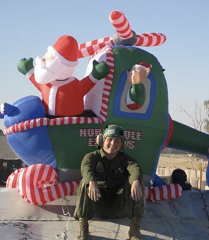 Which is also why I am so proud of our TMX Finance ® Family of Companies. The Company has embraced the balance and created an environment suitable to aide in this transition by providing additional education to our trainers as well as providing the necessary tools for any military member to enter into a long-lasting career with us. By providing these opportunities, it allows us to thank our veterans for their service. Afterall, they deserve it. So, let's all go out and thank a veteran today. If you see them out with their families, please thank them as well for allowing that courageous young man or woman to proudly fight for our freedom, the very ground we stand on and our way of life.