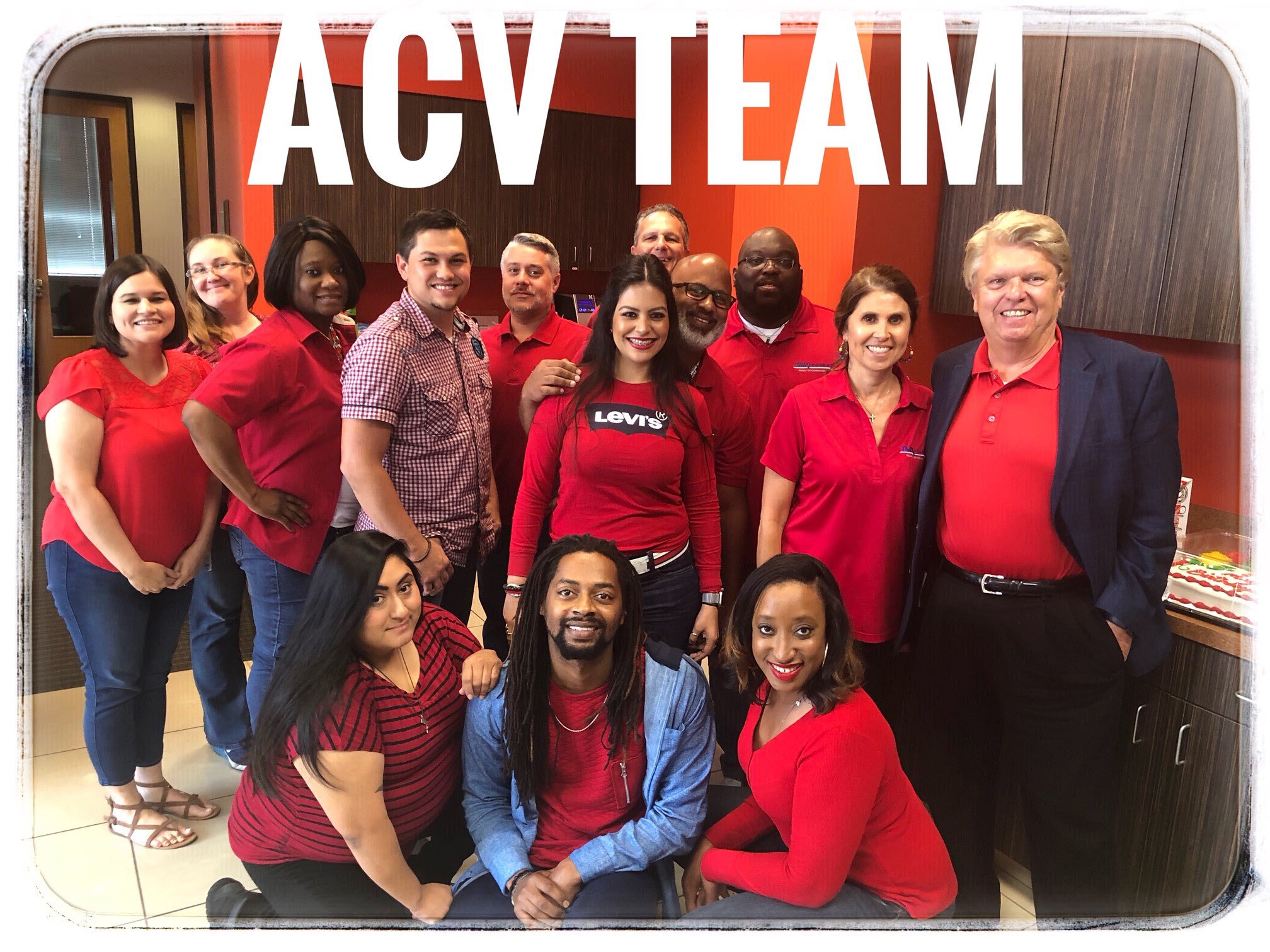 You may not work directly with Laura Quezada- Seargeant on a daily basis, but you know the name. Laura and her team have an unmatched work ethic and a winning mentality. The Dallas Cowboys fan and hula hoop enthusiast inspires our ACV Desk agents by taking the lead in various Company initiatives, from canned food drives to performance-based contests. It's no wonder why she has topped many of the leaderboards at TMX Finance® Family of Companies since starting as a District Director of Operations in Training.
"I came in as a DDOIT (District Director of Operations in Training) and remember being wowed by the recruitment process and training program. After running a district for a little over a year, I had the opportunity to become a Director of ACV. Coming to the desks allowed me to be a part of the decisions that were helping our Company move forward. The ACV desks do more than you think in supporting the stores and I'm very lucky to be able to offer up suggestions and help create new processes for them."
Laura grew up in El Paso, Texas where she learned Spanish from her grandmother, family recipes from her mother, and sports from her father (a die-hard Dallas Cowboys fan).
"Thinking back on my time in the field, there were many opportunities to interact with customers who spoke Spanish. I picked up Spanish from my maternal grandmother who spoke nothing but Spanish. Being bilingual allowed me to better serve our customers and make them feel more comfortable."
What comes to mind when you think about Hispanic heritage?
"I think of growing up in El Paso where culture and heritage were rich. My Dad and I would go to Juárez, Mexico every Sunday. It was shopping day. We went to the Panadería (love me some Mexican Pan Dulce) and to the Mercado to buy our fresh groceries every week. I remember on one of my mom's birthdays, my dad had a group of Mariachi's come to our house at 6AM to play the traditional 'Las Mañanitas' at her bedroom window. I remember the neighbors coming out and joining the celebration
I always looked forward to Christmas Eve when my mom would orchestrate a huge tamale making production. Several of her friends would come over and the entire dining room and kitchen were turned into prepping stations. I was allowed to help, but I mostly made a mess.
Family traditions being passed down has been an important part of the culture. Being in Dallas and having a diverse team, we celebrate plenty of cultural holidays, like Mexican Independence Day, by dressing up (in everything from bright and colorful embroidered dresses to soccer jerseys) and holding a potluck to taste different dishes from the culture."
How do you celebrate your culture?
"Growing up, I went to Folklorico dances, which was story telling and celebrating the culture through the art of dance. I was able to celebrate and share part of my culture with my husband in Spain during the running of the bulls! have been able to expose him to dishes passed down from my mother. I learned to cook many of my mom and dad's Mexican dishes. Unfortunately, I was never able to master the art of Tamales or her homemade flour tortillas. There never really was a recipe, only a pinch of this and a splash of that. The true test was if the dough felt right in your hands- then it was ready."
What is a little-known fact about you?
"It's no secret that I am a die-hard Cowboys fan! It started when I was little. I'm the youngest of five. My older brothers were out of the house and it was just me and my dad watching Cowboys games every Sunday."
Who inspires you, professionally or personally?
"Professionally, I have an incredible team that pushes hard every day. Personally, my special needs brother who I care for, inspires me to be a better sister every day."
What advice would you give to emerging leaders?
"You have to earn the respect of those you lead. John Maxwell once said, 'people don't care how much you know until they know how much you care.' Know that your title doesn't make you a leader, you have to work hard, be passionate, and be committed."