By: Stephen Kennedy, Senior General Manager, Air Force
Hi! I hope everyone can get through what might be a long-winded synopsis of my time in the military, and how TMX Project SERV helps my fellow veterans.
I began my military career in 1973, after being fortunate enough to experience being a military brat from elementary to high school. I found myself living most of my young life in Japan and Germany. After graduating high school in Germany, I returned to the states, started college, but found myself missing the excitement and lifestyle associated with being around the military, so I went to my local recruiter in Miami, and signed my name for a 6- year stint.
During my 24- year career, I started out as a young airman in the Security Forces career field and found myself stationed at Cheyenne Mountain, Colorado (NORAD, which has been portrayed in quite a few movies), a cushy job at a great location. I then received orders which would take me overseas to RAF Alconbury, England for two years, followed by Ellsworth AFB, SD.
I spent five years in this particular field, when I received notice there was a demand for Aerial Gunners flying aboard B-52's, and they were looking for volunteers. This sounded like something right up my alley and I liked the idea of being one of only a few hundred gunners, so I took the necessary tests, followed by survival schools and B-52 Gunnery Flight school at Castle AFB, CA. After 8 months of training, I received my wings and was promptly sent back to Ellsworth AFB, SD, to fly B52G's. The cold winters were getting to me, so I began looking for a way to leave the freezing winters of South Dakota. I jumped at the opportunity to be stationed at Robins AFB, GA, even though I had to be retrained on a newer version of the B-52 (albeit newer, but still as old as me), so back to Castle AFB, CA for three months, then onto Robins AFB.
I spent only 6 years doing this stint as an Aerial Gunner, which allowed me to travel quite a bit, have some wild and sometimes harrowing adventures, but it came to an end in 1983. The decision was made to do away with the Aerial Gunner position and pull the defensive weapons off the aircraft, so again, I had a career decision to make.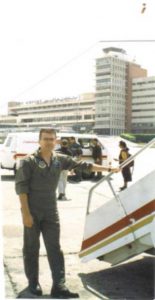 By this point, I was about halfway through my time in the Air Force and I had made up my mind that I would stay at least for the 20 years to be eligible for retirement.
It was 1983, and I wanted to remain flying, so I accepted an offer to become an Airborne Communications Systems Operator, which took me to another six months of school before being sent to RAF Mildenhall, England where I would end up flying in EC-135 Airborne Command Posts.
I left there in 1991 to go back to Robins AFB, GA to become Superintendent of Airborne Communications and running a shop of 50 other operators, providing support for CENTCOM as one of General Schwarzkopf's (Stormin' Norman) personal radio operators, both while airborne and on the ground. This was during the kick-off of Desert Storm. I remained in General Schwarzkopf's service for the duration of the conflict until he retired and then supported several more of his predecessors until I retired from the military in 1997 after 24 years.
This last half of my career was my most fulfilling, as I got to serve with some of the most distinguished leaders I've ever known, along with some of the finest operators you'd want to surround yourself with all while traveling the world and participating in various real-world operations.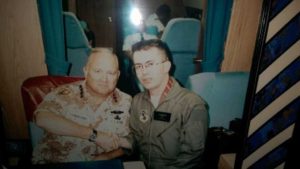 If you're still following my long winded story, congratulations, but lastly I want to expound on some of the takeaways of my military career and how I leveraged them in the civilian world.
Some of the basics is that you end up leaving with a work ethic that is truly second to none. If your expected to be somewhere, or if your tasked to complete a job, then you will do whatever it takes to get it done. You will be where you are supposed to be, and if you're not 15 minutes early, then your 15 minutes late. You learn to improvise, overcome, and adapt to meet and defeat whatever obstacles are put in your way. You learn what teamwork is and how you can count on your people to come through in a clutch to meet and exceed your assigned tasks/goals.
I came away learning to be a self-starter, how to better my project management skills, grow my interpersonal skills, which improved my communications skills, and it allowed me to know when and how to ask the questions that needed to be asked.
At the end of the day, I'm most thankful for the discipline, decision making and management skills, and planning abilities I learned while serving. Each of these skills helped me in transitioning what I had been taught and allowed me to start my own successful business after I retired, growing my business to 17 retail locations throughout Georgia/Alabama and over 120 employees.
After being hired by the TMX Finance Family of Companies, I'm grateful to the TMX Project SERV program, as I see veterans as an important asset to most any company. They have developed the skill-sets and competencies that directly meet the needs that most companies are seeking. As a veteran, I understand that former military members come out of the service not clear on what direction they want to take, and our Company certainly steps up to the plate and helps fill that void.