By: Kala Kozdron, Senior Paralegal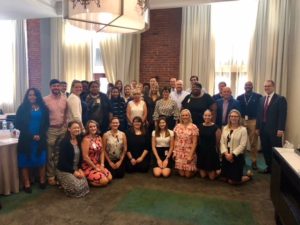 At the end of this summer, the Legal, Compliance, and Bankruptcy teams were all able to attend the first TitleMax Legal Summit. Legal was also happy to host members of the Ops and Human Resources teams. The Summit, hosted by Legal, featured several panels of speakers. The speakers were attorneys, whom we use to assist and represent us in various matters across our footprint. These attorneys, referred to as our "outside counsel," traveled from all over the country to come and speak at the Summit.
The attorneys were grouped into panels (small groups), and discussed different topics predetermined by the Legal team as areas related to current issues or trends in the industry. These topics were issues that all members of the Legal team encounter frequently in their daily routines at TitleMax®. Each panel discussion was moderated by a member of the TitleMax Legal team.
The Summit kicked off with an Executives' Discussion. Although they weren't able to attend in person, Otto and Ted joined us from Dallas via video conference. Together, the two of them delivered a "State of the Company" address to us and to our outside counsel. This was great because not only was it a chance for our outside counsel to interact directly with Otto and Ted, but it was also a chance for them to hear about Otto's vision for the Company, from Otto himself. Otto and Ted also did a great job of explaining how Legal fits into the future of the Company, and how they expect our outside counsel to assist Legal in achieving those goals.
The panel discussions were each about an hour and 30 minutes, and were informal conversations where questions and feedback from the audience were encouraged. The topics covered included issues related to litigation, such as non-competition clauses, e-discovery, document holds, arbitration, and employment issues. The panels also offered insight into litigation and issues facing creditors, collections processes, the Fair Debt Collection Practices Act ("FDCPA"), and the Telephone Consumer Protection Act ("TCPA").
The Legal Summit was a huge success and a great resource for learning about developing trends in litigation that affects the Company. The Legal Department is grateful for this opportunity, and we're already looking forward to planning the Legal Summit for 2019!