Remember our awesome Golden Ticket winners? They are team members who are recognized by our President for doing outstanding things every day and are awarded a pair of tickets to a Dallas Mavericks game. Each of the November golden ticket winners has attended a Mavs game and sent us a recap of their experience. Check them out below and find out why they were nominated. Stay tuned for the December winners and their recaps!
Golden Ticket Winner Preston Grimshaw, Financial Analyst
Dallas, TX
Read why Thadd Tokerud, Director of Financial Planning Analysis, nominated Preston: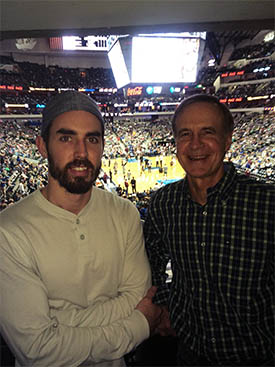 While Preston could still be considered a "new face" at the TMX Finance Family of Companies, he has proven to be a valuable team member since day one. As part of the recently created Portfolio Analytics team, under the guidance of Anna Frowein, Preston and Anna continue to evolve our reporting to provide senior leadership with the tools needed to continue navigating our Company to success on a daily basis!
As Anna stated "Preston has continuously demonstrated that he is a team player and is willing to help out on any project."
Thus, with that type of attitude, from not only Preston, but the whole FP&A team, we will continue to strive to add value to the business every day!
Preston's Game Recap:
I took my father to the game and we had a great time. The game and the seats were awesome! It was the Mavs first win of the season and they won in OT against the Milwaukee Bucks, even with Dirk being out. I truly appreciate the vote of confidence from my supervisors and could not think of a better way to spend time with my Dad.
Golden Ticket Winner Jill Harrison, Online Operations Manager
Dallas, TX
Read why Craig Baker, SR. Director Online Operations, nominated Jill:
Jill is a Golden Ticket winner because she is always ready to take on the next challenge and adds value to every project she works on. She is a quick learner and thinks on her feet. She is a dedicated team member who adjusts quickly to change and always performs her job with a bright attitude and vivacious smile. Jill is the type of team member we strive to hire and is an extremely valued member of the TMX Finance Family!
Jill's Game Recap:
I had such a great time at the Mavs game! The Mavericks won with a 91-81 victory over the New Orleans Pelicans breaking their 8 game losing slump. It was incredible to be a part of the excitement of a winning home game and humbling to be there because of the recognition I received from my supervisor and the President. I was so excited to be close enough to see Mark Cuban standing up and cheering on his team!