At the TMX Finance® Family of Companies, women are leading the way. They're mothers, mentors, military veterans, community volunteers, and operators. Our women are leaders.
Read all the interviews we held in our Women of the 20th blog series to learn how they each became the leaders they are today.
---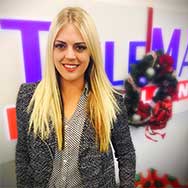 What has been one of your most empowering moments at the TMX Finance® Family of Companies?
At the end of 2014, I was running a TitleBucks® in Austin, TX that I had recently been promoted to about 5 months prior. One day, I was at my office when an email popped up inviting current General Managers to apply to a store in Texarkana, TX. I knew that I wanted to move up in the Company and moving to Texarkana to take over this large store would be a huge opportunity in my career development. People called me crazy to move so far away from family where I didn't know a single person. They were absolutely right! It was a bold and scary move, but also the most exhilarating choice I have ever made. The kicker is that, at first, I thought moving there was about me. That wasn't even the best part!
When I got to my store, I met a young woman that made me feel more empowered than ever. I was getting to know my team and I asked this young lady about her daily routine, her general job duties and what development plan she was on. She replied, "Oh, I am just a CSR." In that moment I promised her that I would teach her everything I knew and that we were going to put a plan together to cross train her in all areas to get her promoted. She had fire and passion and she moved up into management quickly! She is a rising star with the Company to this day, showing this young girl that women like herself and all women, for that matter, have no limit. We can do anything and be anything that we want to be.
How has your time at the TMX Finance® Family of Companies been special?
My time here at the TMX Finance® Family of Companies is very special to me because it opened my eyes to a life that I never imagined. I have been able to meet highly talented colleagues who selflessly showed me how to be the best leader I could be! I have been able to travel, live, explore, and widen my cultural knowledge extensively because of my time thus far with the Company.
What advice would you give to someone starting their career journey with our Company?
You control your success! There are numerous opportunities for individual growth within the Company for those who are hungry and exemplify our core values!
What is your biggest passion?
My biggest passion is developing people. I love that I have experienced every position from CSR to DDO and can truly relate to almost any given situation. I love to inspire, create opportunities for others they never imagined, and show the path to individual abilities. Sometimes people don't realize the potential they have until someone sits down and shows them the way!
Who has been the most influential person(s) during your career?
My dad, hands down, has been the largest influence on who I am today. He is a Marine Corps Officer Veteran of 20 years, a father of nine children, and has been very successful in all his endeavors in his career. My dad showed me how hard work pays off, he taught me to always exemplify integrity in all that I do, and that people are most important. Over the past six years with the TMX Finance® Family of Companies, I have moved several times and every time I announced a new move, my dad told me he was happy for me but he was mostly proud of the impact and positive change I made in my team members' lives.
Is there anything else we should know about your journey to success?
My journey thus far has been an incredible ride and words cannot describe how thankful I am to be a part of such a dynamic culture! My passion, hunger for growth, and the endless opportunities have played a significant role in my motivation over the past six years and it has just begun! Look forward to many more years because to me this isn't just a job, it's a family!