Nicolas Rodriguez always imagined he would grow up to help others. Although his father's goal was to have him take on the family strawberry farm, Rodriguez wanted to hold his own career in business and leadership. He was able to do just that. When Rodriguez joined the Company over five years ago, he assisted in opening new stores in our fast-growing California market.
"I found TitleMax through LinkedIn and applied while I was still working in Mexico. Things didn't work out because I wanted to be in California. When I came back to the states, I reconnected with the recruiter, and was able to start in California. Working with Mike [Kelleher], we opened the California market during my first year."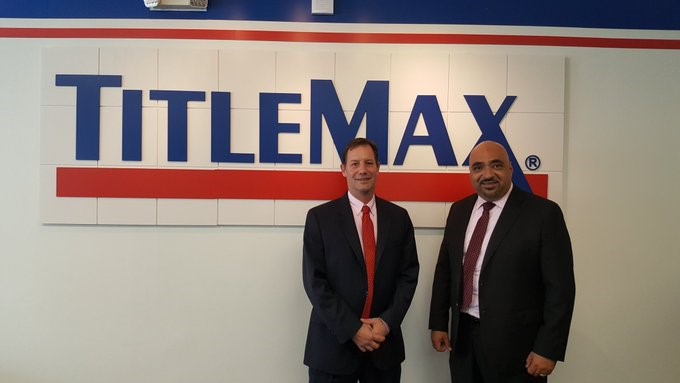 Eight months after he ran his own California district, he was promoted to Regional Vice President—and moved across the country to oversee the Illinois and Missouri markets. Rodriguez is currently back in an area closer to family and the rich cultures and traditions he grew up with.
As a Regional Vice President with the TMX Finance® Family of Companies, Rodriguez's proudest moments are those where he has developed several team members into the next role- Store Managers into General Managers, General Managers into District Directors, and even one District Director into a Regional Vice President. Development has been a passion of Rodriguez's for years.
During his time in high school, he became leader of the Maya Club, a club that helped Hispanic students graduate. Rodriguez learned a lot from Civil Rights activist, Cesar Chavez, who came to his high school to speak and encourage students to seek more. That was not the last time Rodriguez rubbed elbows with the labor leader.
"Cesar Chavez opened the door for migrant workers and provided them a road map on how to succeed in this country. While my dad owned the strawberry farm in California, Cesar Chavez came to help assess the land and determine the best ways to farm. I was proud to be bilingual and translate for Cesar's lawyers."
How has being bilingual in Spanish and English made an impact on your career?
"There is a comfort level and a connection built right away between me and our customers without having the RVP title in between. It's easier to build relationships when the customers can relate to where you're from and when you can speak their language. Speaking Spanish and being a part of the Hispanic community brings the customer and myself to a level where we can share experiences, stories, and conversations about the towns we grew up in instantly."
What is a little-known fact about you?
"I am pretty transparent and most know that I am focused on developing my career and my family. I focus a lot of my development through professional and spiritual readings and a lot of meditation. That is something people may not know about me; meditation helps get me through the day and find inner peace."
What has been the proudest moment in your career?
"Every team member in each store has a personal goal board. During a store visit, I remember seeing a new Mustang owned by one of our team members in the parking lot. That brand-new Mustang was just one of the items crossed out on her goal board.
My personal mission is to assist people and provide a road map to reach their goals. I make a point to look at each person's board at each store visit and take that time to coach them and encourage their personal development. You have to put it into numbers to help them visualize the possibility of achieving their goals. What's really great about our Company is we're focused on driving business so our own people can reach their goals. It's cool to go back to stores and see things on the boards that are crossed out."
What comes to mind when you think of Hispanic Heritage Month?
"As Hispanic Heritage Month approaches, we have the opportunity to learn about different leaders that have come before us and made an impact on the community and country. Their stories come to life and are revisited. It's a moment to reflect and celebrate."
How do you celebrate your Hispanic culture?
"I like to mix it up! I love getting together with family and having a traditional meal; tamales, posole, birria. My mom is a really great cook! We connect over food, talk, and share memories. We even connect with our relatives down in Mexico at the same time.
We celebrate Mexican Independence Day, which started on the night of September 15th. The president of Mexico comes to address the country and kicks off the celebration for everybody, it's like waiting for the ball to drop on New Year's Eve in the U.S. I've been fortunate enough to take time off and celebrate in Mexico with my family and the community which is a whole celebration for the Hispanic community everywhere."
What advice would you give to emerging leaders?
"One, always believe that your goals will be reached. No matter how far away they look, they can be reached. Never take your eyes off the goal. Second, during your journey to leadership, take the time to self-development. I did not see myself move or grow until I started self-developing. Ten years ago, leadership material wasn't available. Now, you can get the tools you need from your phone. Also, find a mentor. There was a moment in my career where I said, 'If I want to reach my goal, I have to find a mentor.' Ask that person, 'I would like to learn from you and check in with you,' to make sure you're on the right path."