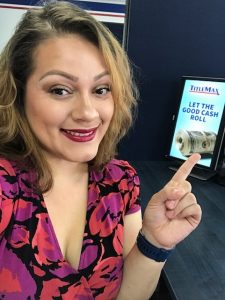 Submitted by: Alheli "Lily" Zuniga
I came to the United States over 24 years ago and since day one, I always wanted to do something good for myself. I have had a total of three jobs in my entire work life. I spent nine years with one company where I learned to be loyal, dedicated, and passionate. In those nine years, I was able to start from the bottom and move up to eventually oversee more than 25 employees. My experience there, along with my determination to become part of something bigger, got me where I am today. Every day I walk in to work waiting to take on the day, passionate for everything to come, and loyal to my goals!
To become great, I believe you have to be committed. Commitment is not something said in passing – you have to be loyal to the goal. I have expressed this throughout my career and it has helped me tremendously in getting promoted and reaching my full potential. My ability to accomplish this has given me the confidence and the drive to better myself at home and even more so at work. I have worked really hard to maintain my goals in the hopes of being part of this shared success. Even though hard times have come and gone, my motivation allowed me to stay on course and maintain a good outlook.
Anytime that I face something challenging and get discouraged, I sit back and look at the bigger picture, and I always pull myself back up.  After losing my last job, I thought I would never be able to get another one. However, my drive to get back on track is what kept me going.  Now, TitleMax has given me the opportunity to expand beyond my comfort zone.  Since coming here, I have been able to do things that allow me to use my full potential to become successful in my store. I have tried really hard to let my drive fuel me to be at the top of my district as well as my region. I have some very awesome people that I work with and that I work for, thus making me want to continue to succeed. I am very fortunate to have been hired by the TMX Finance Family of Companies and to have recently become a Certified Trainer, and my drive to become successful is what keeps me going.