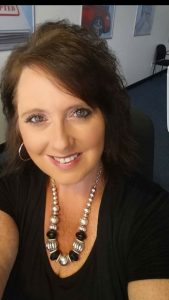 Lori Hindman, GM, District 88
My parents owned several businesses I worked in from the age of 14 to 18 until I joined the Army. I was taught very early that to succeed in life, you have to go out, get what you want, and prove you're the best. I have always strived to be the best I can be and to bring new ideas and creativity to whatever I do in business. I have a passion to learn as much as I can, to get to the next level, and to always strive for excellence.
Passion, determination, and discipline have kept me committed, motivated, and passionate about what I do. Before joining the Company, I was a convenience store manager and within a year I was promoted to Market Manager with 5 locations. Because I had the determination to stand out and be different, I was recognized for it and landed that promotion.
While working for the TMX Finance Family of Companies, my store took a turn last year and I had to rise above and figure out a different direction in order to get everything back in line. I stayed true to myself and being different from everyone else is what helped us stay the course. I stood tall and kept driving my team which resulted in getting us back to a more balanced business. My passion has given me the drive to succeed– I started as a Store Manager, and within 11 months I was promoted to General Manager. Now, I am working with my DDO to get me to the next level!