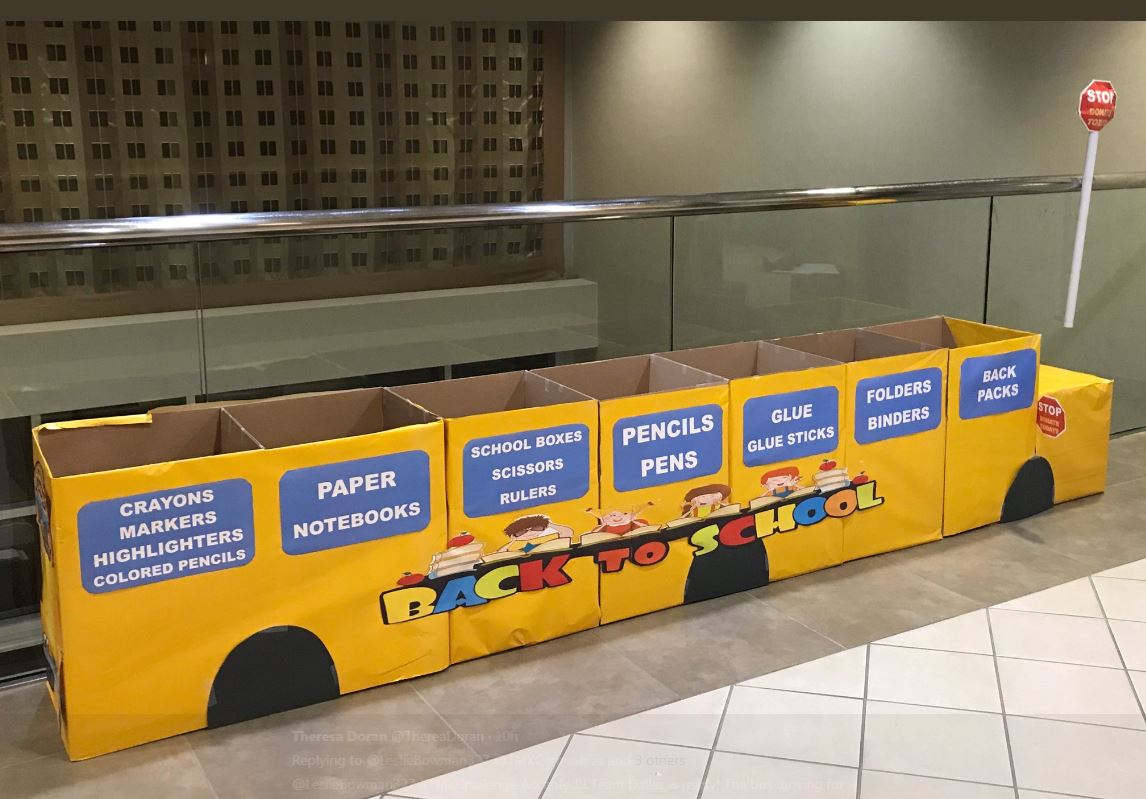 Submitted by: Jamie Lane, Director of Internal Communications
 Throughout July and August, we held our first Company-wide Back-to-School Supply Drive. This drive event was just the first of many fundraising opportunities we recently rolled out as part of our new TMX Cares Community Initiatives commitment.
Our stores across the country have been holding separate back-to-school supply drives for many years, which is why we decided it was time to bring everyone together at the same time to support our local children, schools, and non-profits in a unified approach. This drive event is an important part of our TMX Cares commitment in helping to ensure children in all of the cities where we do business, are headed back to school with the supplies they need for academic success!
Collectively, our Company donated 31,491 school supplies supporting 4,597 children and helping 283 local charities. These results prove that together as a team we have a significant impact within the communities where we work and live, helping the people who need it the most. You could say, it's at the very "heart" of what we do every day.
During these donation events, there are some teams who go well beyond what is expected and they achieve more through special acts of caring that makes them stand-out amongst others. These teams dig a little deeper, go a little further, and make incredible things happen all in the name of helping others. We recognize these teams with a special award for not only exemplifying our Company's mission of helping people, but for going above and beyond to help those who need it the most.
After each community initiative we complete, we recognize one store team and one corporate team for their outstanding acts of kindness with the TMX Cares Heart Award. Our Back-to-School Supply Drive winners with the biggest hearts are….
TitleBucks1 in Griffin, Georgia and the Operations/Staffing/Risk/Executive team in Savannah, Georgia! Looks like Georgia made a clean sweep with this initiative! Congratulations to both of these teams who went above and beyond to support their local communities' children.
The TitleBucks1 Griffin, GA team not only donated school supplies to Anne Street Elementary School, they also gave out School Supply gift bags to their customers with school-age children. In all, they donated 944 items and supported 120 kids! Impressive!!!
The winning corporate team not only donated school supplies to the SAFE Shelter of Savannah, they also learned that the shelter was in dire need of clothing items, so they rallied the troops and donated 323 school supplies and clothing items supporting 30 kids currently living in the shelter. Wow!
We know that school supplies are costly and for some families, there simply isn't enough money in the budget to buy even the essential supplies. That's why we come together as one team to help send these children to school with backpacks, pencils, paper, markers, glue etc. because these are the tools they need to feel confident and start the school year off successfully.