Submitted by: Helen Jerman, Lead Writer/Associate Producer
At the TMX Finance Family of Companies, we don't just tell our team members what they need to know. We show them through innovative and cutting-edge videos that our team of editors and producers create using our in-house production studio.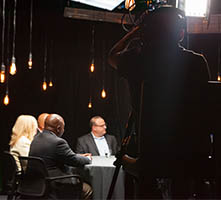 Many companies outsource video production, but we believe so strongly in the power of video to engage and inspire our team members that we've built our very own studio, complete with soundstage and green screen. Team members have to wade through a variety of messages every day, so by using video as our primary communications vehicle we are able to cut through the distraction and noise to give our team members the tools they need to feel inspired and engaged every day.
Whether it's a roundtable discussion with senior leaders, a message straight from the president about an important operational change, or a teaser about upcoming training–video allows us to highlight Company initiatives and leaders in a way that leaves everyone feeling motivated!