Submitted by: Alheli Zuniga, District Director of Operations
As a Mexican, born and raised just South of the Texas border, in Tamaulipas, I came to the U.S. with many of our traditions. I was 7 when I arrived in Dallas, Texas. Around this time, in 1993, Dallas was really starting to look and feel as if "that time of the year" was near. To me the weather was different but the things we were going to start celebrating were still the same.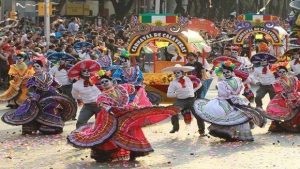 Around this time of the year, my mom, my tias, and my 'buela were talking about all the things we needed to prepare for since "El Grito" was going be celebrated downtown in Dallas by "la bola" ("the ball" aka Reunion Tower to the locals). I remember all of us going to the park there and waiting for the diesiseis de septiembre celebration. In Mexico, we had to dress in our all-white apron uniforms on these occasions but here in Dallas we did not.  "El Grito" is what they call the speech and the ringing of the church bell that Miguel Hidalgo sounded off prior to the war of independence against Spain in 1810. This is very symbolic as all Mexicans feel pride and liberation in being "uniquely Mexican". It's almost as though Septiembre starts us off on a tradition for the end of the year celebrations. El Grito makes us feel like the tribes of New Zealand feel when they do "the Hakka". It's an event of extreme pride, empowerment, heroism, remembrance, and more importantly of unity. We are all celebrating heritage, culture, and traditions that make us unique and different in our own ways. "Hispanic Heritage Month" may start and get us all hyped in September, but trust me, we are celebrating all year with our Mexican traditions.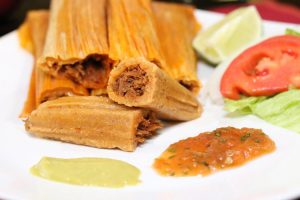 Around this time of the year, you start to see so many more things from Mexico all over the local Mercados, flea markets, bazaars, and grocery stores that carry authentic Mexican items. For example, if you are going to be making tamales for the upcoming months, then you will start seeing all the ingredients for the traditional foods. You'll see the "Hojas de helote" at the store by the dozens next to the chile rojo and the manteca de puerco. It's funny because they put everything together in the same isle or within the same vicinity to make sure you don't miss out on all the essentials in a one-stop-shop experience. Tamales are HUGE in the fiestas patrias -they're requested all the time, but in Septiembre they are a must have item. El pan dulce and the drinks in los jarritos de barro are the perfect dessert pairing after you stuff yourself with tamales and all the other Mexican foods you eat after you celebrate El Grito.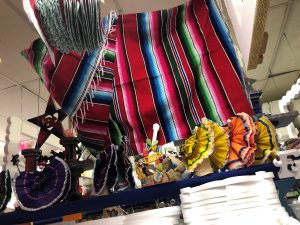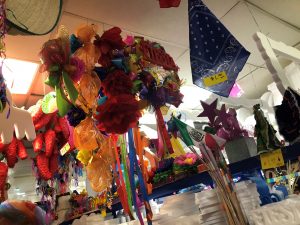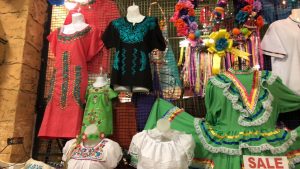 Another thing you'll find everywhere is the Mexican garb. "Nunca faltan unos trajes charros y unas faldas amponas largas". Charro suits and the traditional long skirts with many patterns and designs that you can only find in certain Mexican shops. Around this time there is a lot more charreria shows. Charreria is a show that is put on by professional show-horse riders, native to Mexico, and usually done around the time of the fiestas and any other celebration. People dress as charros and escaramuzas which is really a sight- El sombrero charro, los botines blancos, el rebozo, las espuelas and everything that goes along with it. The colors, shapes, sizes etc., are absolutely beautiful and individual to each charro and escaramuza who do this professionally. They prepare for this all year long with practice and a lot of time at the seamstress. Septiembre, however, marks the beginning of a full end-of-year calendar for most of these amazing performers.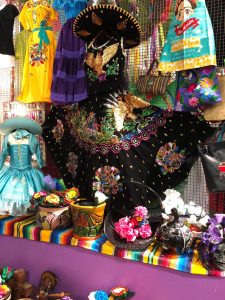 One other thing that really stands out as Septiembre kicks us off is a count-down to the end of year preparation for El Dia de Los Muertos. I came from the Dallas market to San Antonio about a year ago and I can tell you "little Mexico" is here! San Antonio has a lot of really nice cultural shops and they celebrate these traditional days' more than the Dallas area does. One of the most anticipated times of the year that starts us off is El Dia de Los Muertos. This day starts to become "alive" as soon as we feel that fall is here. Many families start having loved ones bring them traditional Mexican candies and candles as well as shrine paper and calaveras from Mexico. Some of these things you cannot get here, therefore, they must be brought from Mexico to feel truly original. Las calaveras de dulce, el pan de muerto, las velas blancas y las Coronas de muerto, are some of the things that are original to the day and we all start prepping immediately. Mexicans and Hispanics all over celebrate this day. There is always an effort and preparation to either travel to celebrate with their loved ones in their native country or to bring items and family members here to celebrate. This day is huge in our culture and starts very early.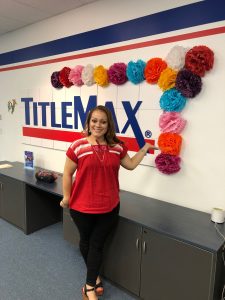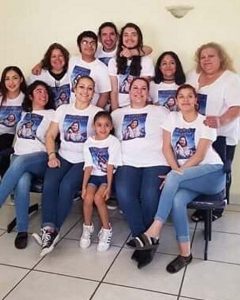 During Hispanic Heritage Month, you will see many changes start to happen around the country and even in pop culture (Nike just released an ad featuring Latina/Mexican/Hispanic women athletes; Facebook, Twitter, Instagram and Snapchat begin advertising the upcoming festivities). Needless to say, I am very proud and honored to have these traditions instilled in me since childhood and not having lost that part of my heritage coming to America at such a young age. I love to celebrate and do the things we did as children, but I now get to plan them as an adult. I think to be part of all of this is a breath of fresh cultural air.