TMX Finance® Family of Companies Joins National Time to Vote Movement Ahead of the 2020 Election Cycle
Company Release: 10/20/2020 12:12 pm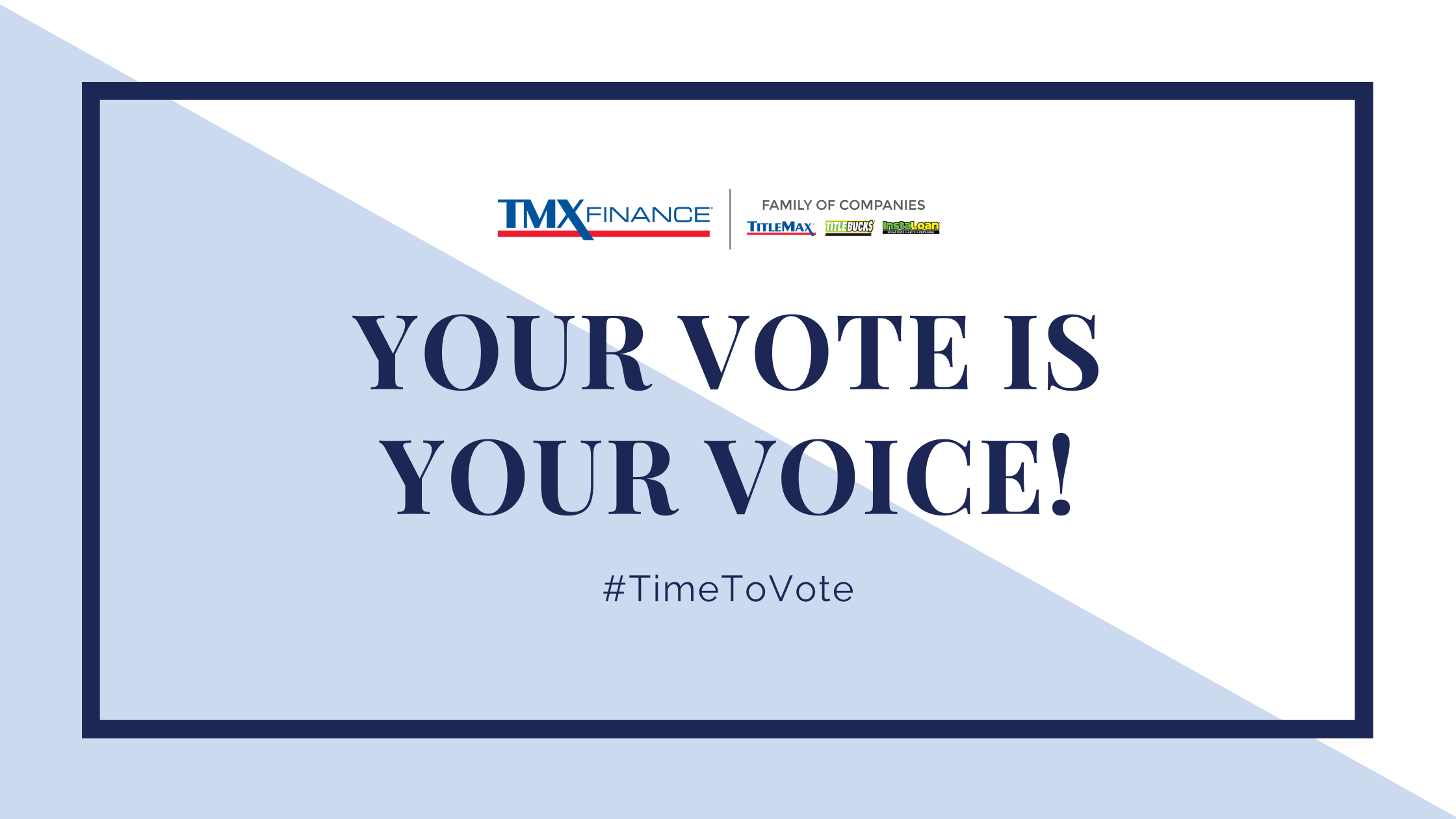 Savannah, GA (October 2020) – The TMX Finance® Family of Companies is proud to join the nationwide Time to Vote movement, along with more than 1,700 national and local companies. The Company recognizes the importance of our Team Members exercising their right to vote and understands the impact candidates elected to office have on the communities where we do business. 
Time to Vote is a business-led, nonpartisan coalition that aims to increase voter participation in U.S. elections. According to Time to Vote's data, voter turnout in the U.S. is one of the lowest in the developed world. Furthermore, their data shows one of the most common reasons people give for not voting is that they are too busy with the demands of life and work.
"We are making sure our Team Members don't have to choose between having their voices heard and earning their paychecks. We've reviewed our time off voting policies and procedures and communicated to our management members to work with anyone who wants to vote on adjusting their work schedule," Otto Bielss, President of the TMX Finance® Family of Companies, said. "We want our Team Members to participate and have encouraged them to register to vote by providing registration links and state registration deadlines."
"When so many influential business leaders join forces – and take a stand on the vital issues of civic engagement – it sends a compelling message. The Time to Vote coalition's commitment to give employees time off to vote, especially now when the challenges are so dire, can address one of the biggest barriers to voter participation," said Jennifer Weiss-Wolf, Vice President of Development at the Brennan Center for Justice, a leading nonpartisan institute on democracy and justice in the U.S.
The TMX Finance® Family of Companies is showcased as a Time to Vote partner alongside other national and local companies on the Time to Vote website under "Our Members."
About the TMX Finance® Family of Companies
The TMX Finance® Family of Companies provides consumer credit products under the TitleMax®, TitleBucks®, and InstaLoan® brands. Since 1998, we have provided access to credit for consumers who are underserved by traditional lenders. With over 1,100 stores in 17 states, we are an industry leader throughout the country.
About Time to Vote
Time to Vote is a nonpartisan, business-led initiative to help ensure employees across America don't have to choose between voting and earning a paycheck. Participation includes giving employees access to and information about early voting or vote-by-mail options, offering paid time off on Election Day or making it a day without meetings. Time to Vote was founded by Levi Strauss & Co., Patagonia and PayPal ahead of the 2018 midterm elections, when 411 companies representing all 50 states and a variety of industries joined. For more information, visit maketimetovote.org.