TMX Finance® Family of Companies Honored Again as a VETS Indexes Recognized Employer
Company Release: 04/14/2023 09:36 am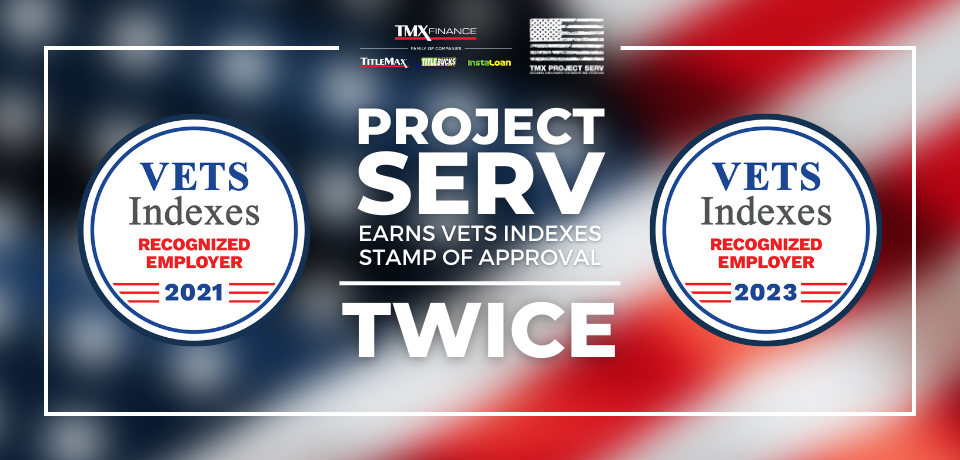 Savannah, Georgia (April 14, 2023) — The TMX Finance® Family of Companies is proud to be named a VETS Indexes Recognized Employer as part of the 2023 VETS Indexes Employer Awards. This is the second time the Company has earned the distinction and is one of only 200 organizations nationwide recognized for demonstrated dedication to veterans, members of the National Guard and Reserves, and military spouses.
Being a VETS Indexes Recognized Employer means the Company has a robust commitment to recruiting, hiring, retaining, developing, and supporting veteran employees and others in the military-connected community. President and Chief Operating Officer Ted Helgesen champions the Company's veteran hiring commitment as a U.S. Army veteran. "I gained discipline in the military, I saw the value of a talented team, I acquired a full understanding of commitment, and I learned the virtues of great leadership. I want all veterans and military members out there to know that we are proud of our Company, and we want them to join us and thrive. We will value their strong work ethic, feed their passion, teach them new skills, and welcome their commitment to a team," Helgesen said.
Established in 2017, TMX Project SERV: Securing Employment for Respected Veterans aims to recruit, hire, and develop veterans, transitioning and reserve service members, as well as military family members into integral Team Members. Through customized development plans and programs, our military community Team Members receive the guidance, resources, and encouragement they need to meet and exceed their career goals.
"As more and more employers recognize the cutting-edge technical and soft skills veterans bring to the workplace, the race to attract military-connected talent gets increasingly competitive. The number of organizations participating in the 2023 VETS Indexes Employer Awards more than doubled since last year – but even in this highly competitive environment, the TMX Finance® Family of Companies distinguished itself among veteran employers and should be commended," George Altman, managing director of VETS Indexes, said.
The Company is honored to receive this recognition, which speaks to their longstanding commitment in providing a culture that empowers military-connected community members to thrive at the TMX Finance® Family of Companies.
About the TMX Finance® Family of Companies
The TMX Finance® Family of Companies provides financial solutions through our TitleMax®, TitleBucks®, and InstaLoan® brands to customers who primarily have limited access to traditional consumer credit products. We offer both competitive secured title lending products and unsecured products in store locations across the country and online in select markets.
About Military Friendly® Employers
VETS Indexes is a leading voice on veteran employment issues, overseeing the VETS Indexes Employer Awards, hosting the twice-yearly Employing U.S. Vets Conference, unearthing unique and unprecedented data on veteran employment through the Veteran Employment Benchmarking Service, and developing custom indexes, linked to financial products, that track the performance of the publicly traded companies that have established themselves as the best employers for veterans.
As the world's first resource for U.S. veteran themed indexes, our mission is to provide innovative solutions that recognize the value created by the mission-critical mindset, unique skills, and specialized training that veterans bring to the workplace. Our mission also includes a commitment to always donate a significant portion (target of 20% and no less than 5%) of our net profits to charitable organizations that support veterans and their families.