The TMX Finance® Family of Companies Hosting Nationwide National Hiring Day Opening Doors to Rewarding Careers on August 24, 2023
Company Release: 08/10/2023 07:52 am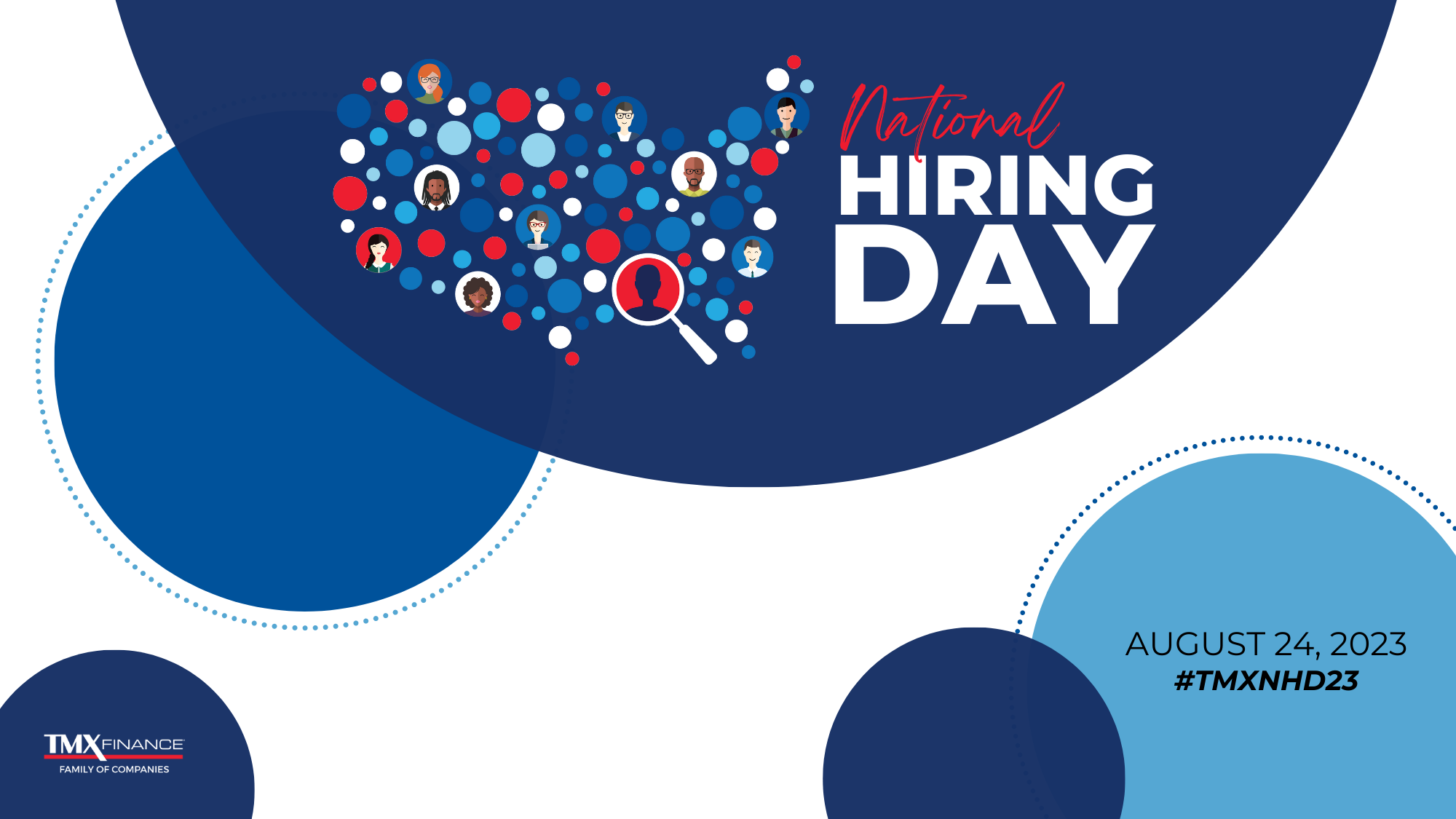 Savannah, Georgia (August 2023) – The TMX Finance® Family of Companies, a leading provider of consumer credit products, will host its annual National Hiring Day event on August 24, 2023, from 10:00 AM to 6:00 PM (local time). The national event is an opportunity to meet with hiring managers, ask questions, discuss career goals, and learn more about the Company as well as the many opportunities candidates have to help build their career.
Candidates can interview for careers on-site at any TitleMax®, TitleBucks®, or InstaLoan® store location and even receive contingent on-the-spot employment offers for certain positions. The TMX Finance® Family of Companies is looking for performance-driven individuals who have a passion for serving others and offers full-time opportunities in store operations functions such as customer service representatives, assistant store managers, store managers, and general managers nationwide as well as corporate support positions in Dallas, TX and Savannah, GA.
The TMX Finance® Family of Companies provides competitive pay and multiple coverage levels for medical, dental, and vision benefits for full-time Team Members. In addition to comprehensive health benefit offerings and a compensation program that reflects a performance-based culture focused on providing exceptional customer service, candidates can also expect Traditional and Roth 401(k) options with Company match, paid time off, a nationwide perks program, a Company culture focused on recognition, wellness, caring, growth, and diversity, and more!
"The Company's mission is to help people, but that doesn't just apply to customers looking for financial assistance. Our mission includes helping our Team Members grow professionally and personally through a robust training program and helping the communities where we live and work through giving back," said Lindsey Smith, Chief People Officer. "When you join the TMX Finance® Family of Companies, you become part of one team striving to make a difference and tap into all that we offer to find success, grow together, and advance your career."
To learn more about National Hiring Day, the TMX Finance® Family of Companies, find a location near you, or to register for an in-store event, click here, or text 'TMXCareers' to 97211.
About the TMX Finance® Family of Companies
The TMX Finance® Family of Companies provides financial solutions through our TitleMax®, TitleBucks®, and InstaLoan® brands to customers who primarily have limited access to traditional consumer credit products. We offer both competitive secured title lending products and unsecured products in store locations across the country and online in select markets