The TMX Finance® Family of Companies Back-to-School Supply Drive Delivers Thousands of Supplies to Students Across the Country
Company Release: 08/24/2022 07:00 am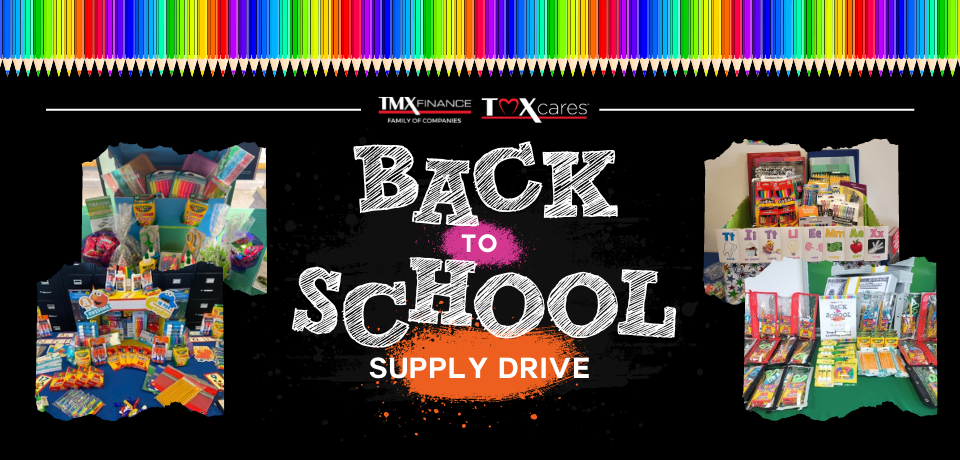 Savannah, Georgia (August 2022) – The TMX Finance® Family of Companies recently concluded their annual Back-to-School Supply Drive donating essential school supplies in the Company's many cities of operation across the country.
In a two-week donation campaign, Team Members from more than 950 store locations and two corporate offices in Savannah, GA and Carrollton, TX along with their customers and community partners rallied together to generously contribute much needed items to students and families experiencing hardship. Collectively, the Company provided more than 88,000 school supplies to roughly 460 schools and non-profit organizations across the Company's footprint to help ensure local students have the items they need to aid in their academic success this year.
"At the TMX Finance® Family of Companies, we believe in supporting the communities where we live and work. Providing students in our communities with the tools and supplies they need to be successful and feel confident in school is now more crucial than ever," said Ted Helgesen, President and Chief Operating Officer. "I am proud that our Team Members and our customers can come together and make a difference in our communities by helping kids get off to a great start as they begin a new school year."
The annual drive is part of the TMX Finance® Family of Companies' longstanding community outreach efforts called "TMX Cares™." The philanthropic initiative is aimed at supporting local programs and organizations that align with its commitment to create a positive impact in the many communities it serves.
About the TMX Finance® Family of Companies
The TMX Finance® Family of Companies provides financial solutions through our TitleMax®, TitleBucks®, and InstaLoan® brands to customers who primarily have limited access to traditional consumer credit products. We offer both competitive secured title lending products and unsecured products in store locations across the country and online in select markets.