CFPB and the TMX Finance® Family of Companies Agreement: Customer FAQs
Company Release: 03/01/2023 13:59 pm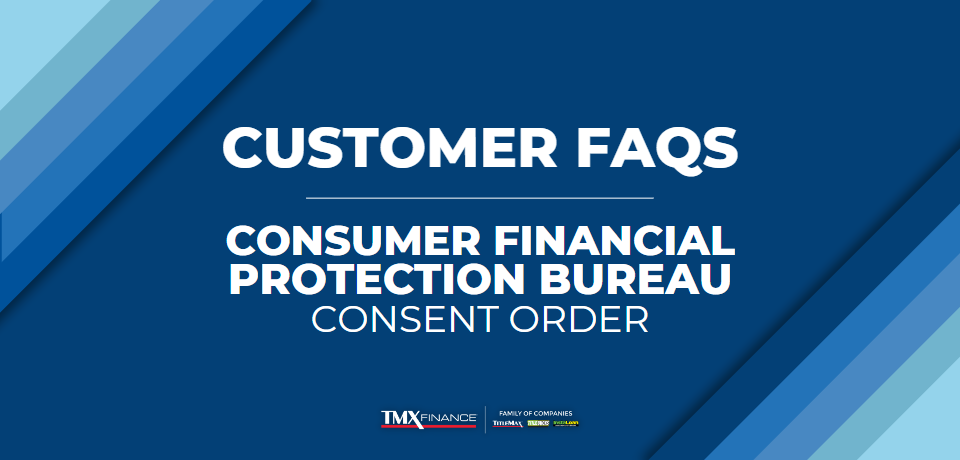 Q1
What is the CFPB and the CFPB Consent Order?
A1
The CFPB stands for the Consumer Financial Protection Bureau, which is one of several government agencies that regulates lenders within the financial industry. From time to time, our regulators review our business to make sure we are following all applicable federal, state, and local regulations. The Company has a well-established track record of good faith cooperation with all government regulators.
We have been working with the CFPB in a cooperative approach to perform a review of our business practices, and the Consent Order, executed on February 23, 2023, is the agreement between our Company and the CFPB, in which we agreed to perform certain tasks to avoid litigation, and instead, focus all of our efforts on providing best-in-class services to our customers.
The Company has safeguards in place to help ensure its products and operations are in line with the law and with consumer protection best practices.
Q2
What were their alleged findings?
A2
Based on the CFPB's exhaustive review of our business practices, they alleged violations of two specific lending practices.
The allegations, which the Company does not admit, were limited in scope. The Company believes in the strength of its business controls and that our operations are in line with the law, including consumer protection requirements.
Q3
What does this order mean for me as a customer?
A3
This order has no effect on our ability to do our business! We will continue to make loans and pawns as we do every day. This agreement with the CFPB has no impact on our reliability as a source of credit for our customers!
The overwhelming majority of our customers are

not affected

by the agreement reached with CFPB.
No action is needed on your part. We will notify you if you are impacted.
The Company will work with the CFPB to provide affected customers with an appropriate redress.
Q4
What resources do you have to help me understand what's going on?
A4
Here are more resources to help you in addition to these FAQs:
The Company released a public statement addressing its review and the agreement executed with the CFPB on February 24, 2023. You can find it here: TitleMax Statement On CFPB Consent Order.
You can also email CFPBInquiries@titlemax.com and a Team Member will be happy to help you.
Q5
How do I know if I should be compensated as part of this Order?
A5
We are committed to providing relief to any Customer entitled to a refund or rebate within the scope of the CFPB agreement and will be sending letters to provide eligible customers with that information.
Q6
Why don't you make loans/pawns to active military members and their dependents?
A6
We currently do not have a product available to any covered borrower under the Military Lending Act, but we do support members of the military community in a variety of ways:
We will continue to serve the military through our Veteran Hiring Commitment, TMX Project SERV, and TMX Cares! We employ hundreds of veterans and military community-affiliated individuals throughout all levels of our Company operations, and we win awards for our commitment to support those who serve!
The Company made a long-term commitment to veterans in 2017 through TMX Project SERV, and we continue to provide a soft landing for veterans as they transition to a civilian workforce and provide support long after they've joined the Company.
We will also continue to host our annual TMX Cares Military Appreciation Drive during Military Appreciation Month in May and celebrate our nation's veterans on Veteran's Day by wearing RED.
Q7
What are non-file insurance policies?
A7
This is a product that was only offered in a limited market. The Company is no longer offering non-file insurance.