HELPING PEOPLE
IS OUR BUSINESS
Awards and Recognition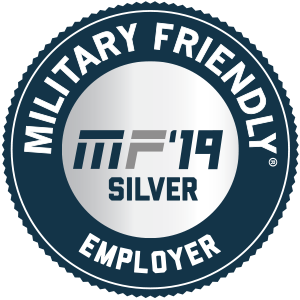 Military Friendly® Employer
TMX Finance® Family of Companies has earned recognition as a 2019 Military Friendly® Employer two years in a row.
Learn more about our commitment to serve those who have served our communities.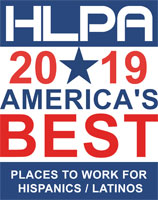 HLPA America's Best Place to Work for Hispanics/Latinos
Diversity in skill, knowledge, and culture is one of the driving forces behind our Company's success.
Learn more about our Bilingual (Spanish/English) opportunities.
Staying Social Is Our Business
We are a socially driven company. Connect with us to get job alerts, learn more about our work culture and see what our ambassadors have to say!
Don't Have a "Senior" Moment- Take the Time to Stretch and Strength Train
Being the "senior" in my department, I feel like I have learned a number of things over my many, many (the second "many" is for you, Barrett) years. I learned manners (I still hold the door open for others), I learned patience (sometimes the bubble over my head stays intact), and I learned the importance of exercise and flexibility. Flexibility is very important and is something we all need to consider, but especially the guys. And let's be honest, it's very hard to get an idea like stretching in a man's head unless there is an immediate need. I never …
Bringing Awareness to Men's Mental Health
Male suicide is rising at such an alarming rate. It's been referred to as a "silent epidemic". Suicide is the seventh leading cause of death for males according to the US Movember website, https://us.movember.com/. Mental illness is literally killing us and it's time to bring more awareness to the topic. In ancient times, the survival of tribes depended upon all men fulfilling the imperatives to protect, provide, and procreate. Young boys and men were expected to hunt and fight. In that harsh environment, a man could not survive alone, and therefore could not afford to become an outcast. Beyond physical …
When the Call Came
In 1981, at just 17 years old, I decided I wanted to go into the Army National Guard Military Police Unit located in my hometown. I remember going to my parents and telling them I wanted to join and serve my country. My father, a Korean War veteran, was very proud I decided to take control of my life and was honored that I wanted to follow in his footsteps and join the Army. Both of my parents had to sign for me to go because I had not turned 18 years old yet. The training and discipline instilled in me at …
Domestic Violence Awareness
*Content may be upsetting to some. Please read with caution. I always thought the signs of domestic abuse would be obvious. That I'd be too smart to fall into that, plain and simple. Except no one ever told me anything about the various types of abuse; that it wasn't all just about the physical and the sexual. No one mentioned mental, financial, verbal, or the emotional kind. No one ever told me about the cycle of abuse. I became uncomfortably comfortable in that cycle for nearly three years. I stayed due to endless excuses that he fed me and that …
Leaders Making History: Laura Quezada- Seargeant
You may not work directly with Laura Quezada- Seargeant on a daily basis, but you know the name. Laura and her team have an unmatched work ethic and a winning mentality. The Dallas Cowboys fan and hula hoop enthusiast inspires our ACV Desk agents by taking the lead in various Company initiatives, from canned food drives to performance-based contests. It's no wonder why she has topped many of the leaderboards at TMX Finance® Family of Companies since starting as a District Director of Operations in Training. "I came in as a DDOIT (District Director of Operations in Training) and remember …
Meet Liliana Torres
At the TMX Finance® Family of Companies, women are leading the way. They're mothers, mentors, military veterans, community volunteers, and operators. Our women are leaders. Read all the interviews we held in our Women of the 20th blog series to learn how they each became the leaders they are today. You started as a Customer Service Representative in a store location and worked your way up to a position in IT! How did that change come about? "I graduated with a degree in Computer Science in Venezuela. By 2010, I moved to the U.S. and started learning all over again, …