At the TMX Finance Family of Companies, women are leading the way. They're mothers, mentors, military veterans, community volunteers, and operators. Our women are leaders.
Read all the interviews we held in our Women of the 20th blog series to learn how they each became the leaders they are today.
---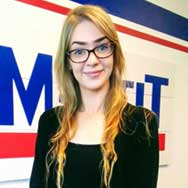 Is there anything unique about your career background?
Prior to joining TMX Finance Family of Companies, I was employed at a dry cleaner store which is completely different than what I do today. That goes to show that if you set your mind to something, you can do whatever your heart desires!
What has been one of your most empowering moments at the TMX Finance Family of Companies?
My time with this Company is so special because I really feel like I have an additional family. We all care about each other SO much!
What advice would you give to someone starting their career journey with our Company?
Never give up! You determine your success!
What is your biggest passion?
My biggest passion is my own happiness. You can't depend on anyone to make you happy. It comes from within.
Is there anything else we should know about your journey to success?
There will be good days, and there will be bad days. Use the good days to help you recognize your true potential and use the bad days as a reminder there's always room for improvement. None the less, don't allow the bad days to drag you down! You are a strong woman who can do anything!