At the TMX Finance Family of Companies, women are leading the way. They're mothers, mentors, military veterans, community volunteers, and operators. Our women are leaders.
Read all the interviews we held in our Women of the 20th blog series to learn how they each became the leaders they are today.
---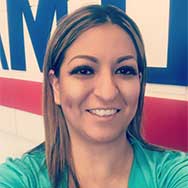 Tell us something unique about your career background.
I was a General Manager for a car dealership for six years prior to working at TitleMax. I have 17 years of experience in sales and customer service.
What has been one of your most empowering moments at the TMX Finance Family of Companies?
My most empowering moment is being nominated and becoming a General Manager Trainer in less than a year and a half.
Why is your time at the TMX Finance Family of Companies special?
I love what I do. I love being able to help customers and I believe in the product we offer our customers.
What advice would you give to someone starting their career journey with our Company?
I would advise them to have fun and work hard. Our Company rewards high performance and results. If you give a great performance, you will have a great career. The sky is the limit!
What is your biggest passion?
My biggest passion is sales and customer service. I love being able to put a smile on someone's face.
Who has had the largest influence on the person you are today?
My son. I was a single Mother for 8 years and he made me want to better my life. I was determined to make sure he had everything he needed growing up. He motivated me to keep moving forward and give 100% in everything I do.
Is there anything else we should know about your journey to success?
The journey to my success has been made possible with the help of my team and my customers.