At the TMX Finance Family of Companies, women are leading the way. They're mothers, mentors, military veterans, community volunteers, and operators. Our women are leaders.
Read all the interviews we held in our Women of the 20th blog series to learn how they each became the leaders they are today.
---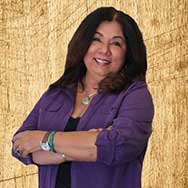 Is there anything unique about your career background?
For many years, I was a business owner in a specialized industry. I was also the Director of quality Control and Quality Assurance in a manufacturing environment. Since we were providing products to the food and cosmetic industry, it was crucial that all of our products met strict quality standards. This position also enabled me to travel internationally and visit non-English speaking countries where I had to market the benefits and quality of our product. I learned to conquer language barriers, which in turn, has helped me tremendously here at the TMX Finance Family of Companies. I understand my customers, not only culturally but also by speaking their language and explaining the benefits of our Company.
What is a little-known fact about you?
Not much is little known about me here at the TMX Finance Family of Companies. Under my leadership, I have received several recognizable awards which I am very proud of, however I do acknowledge that my team has always been recognized. My greatest skill is communication. I believe in communicating everything I learn to be successful. My talent is in marketing. I enjoy working with communities, learning about community issues, and how I can personally step in and help. Coming from a very strong Hispanic background, our family was in business as soon as they entered the US. I was always taught that you were going to be measured on your work ethic. I have instilled this in my children, as well as my staff and trainees.
What has been one of your most empowering moments at the TMX Finance Family of Companies?
I would have to say becoming a Certified Trainer. I have had some very strong leadership the past seven years and these strong individuals have mentored and developed me to become the General Manager I am today. I will always take personal ownership as a General Manager and will always make an impact at every point of contact with customers and the community. When I watch and listen to our Company's President, I understand his vision for the Company's future. What's empowering is that we are a talent obsessed, driven, inspirational Company and we are evolving daily. The Company's approach to new technology will only make us more efficient and maximize our revenues. Working for a Company that is one of the nation's largest in this industry and being a Trainer is empowerment for me.
Why is your time at the TMX Finance Family of Companies special?
I enjoy working with people and developing a "dream team". I take pride in that I will be creating the next generation of leadership for my Company. I love the quote "I feel that the greatest contribution of a leader is to create other great leaders". This is very special to me.
What advice would you give to someone starting their career journey with our Company?
This is your time!! You are very fortunate to be part of a very talented nationwide team of individuals. You are going to learn how to make an IMPACT at your store, with your team and with your family. You are going to work with some of the most interesting people, and the opportunities you're going to have at the TMX Finance Family of Companies are unlimited.
What is your biggest passion?
My biggest passion is my children. I have raised three very successful children who are currently high-level managers at large corporations. I believe I have been a large influence in their continued rise to leadership, due to my energy, support, and determination. My other passion is working and helping people. The TMX Finance Family of Companies has given me the ability to reach out to the community. I have met so many people and have developed lasting relationships. I am able to guide customers on how they view our Company by explaining the many benefits we offer.