At the TMX Finance® Family of Companies, women are leading the way. They're mothers, mentors, military veterans, community volunteers, and operators. Our women are leaders.
Read all the interviews we held in our Women of the 20th blog series to learn how they each became the leaders they are today.
What has been one of your most empowering moments at the TMX Finance® Family of Companies?
"The opportunity to continuously build an incredible team by setting clear expectations, encouraging, motivating, and watching them grow into the future leaders of our Company is the most empowering thing that I can or will ever do within our Company."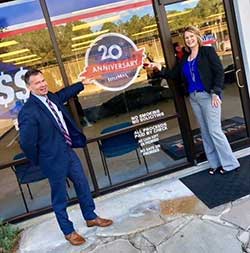 Thinking of where you are now, how has the Company supported you throughout your career journey? (Alternatively, is there a person, group of people, program, or a resource that has helped you along the way?)
"Have you ever heard the saying, "it takes a village to raise a child?" Well, it takes a village to mold leaders. There have been so many incredible people that I owe my success to within our organization. In the Company, I have a village of cheerleaders, mentors, and people who believed in me before I believed in myself."
What has been your proudest accomplishment as a leader with the Company?
"My proudest accomplishment is the day I received the phone call that I was going into the training rotations to become a District Director of Operations. You see, I set my three, five, and 10-year goals in place on November 12, 2012 when I joined the TMX Finance® Family of Companies. I knew from the day I came on board that this was not going to be just a job, but a rewarding career."
Knowing what you know now, what advice would you give to yourself when you started with the Company?
"Success is earned not given to you, and rent is due every day." It's okay to fail at something, but make sure you understand why you failed, so you can learn from it. Time spent with the right people feels like a vacation, so always make sure that you surround yourself with people that make you feel like you're on vacation."
Is there anything else we should know about your journey to success?
"Do not ever allow anyone to tell you that you cannot achieve something. You are the author of your own story; write it with passion, desire, and determination to win. My success does not belong to me; it belongs to the talent that I have on my team."