At the TMX Finance Family of Companies, women are leading the way. They're mothers, mentors, military veterans, community volunteers, and operators. Our women are leaders.
Read all the interviews we held in our Women of the 20th blog series to learn how they each became the leaders they are today.
---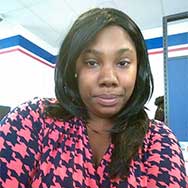 What has been one of your most empowering moments at TMX Finance Family of Companies?
One of my most empowering moments at the TMX Finance Family of Companies was when I was given the opportunity to speak to all of the Customer Service Representatives in our region on my successful journey from Customer Service Representative to General Manager.
What advice would you give to someone starting their career journey with our Company?
The best advice I can give someone starting with the Company is to stay focused and keep an open mind. If you want to be promoted, the door is already cracked, but it's up to you to push it open. I would also let them know that here at TMX Finance Family of Companies, we show world class customer service and we expect nothing less from you.
What is your biggest passion?
My biggest passion is helping, inspiring, and empowering people in tough times. I'm glad that in my current role, I can execute this on a daily basis. I am able to help people out of tough times with a smile.
Who has had the biggest influence on your career?
My mother has been my biggest influence on the person I am today. She taught me that tough times will come, but to never give up.
Is there anything else we should know on your journey to success?
While on my journey, I was a single parent of two amazing children and a full time student. Which means, I had a lot of long days and nights. I want to share this because I want everyone to know nothing is impossible and only you can determine the outcome.