Leaders Making History: Chris Elliott, District Director of Operations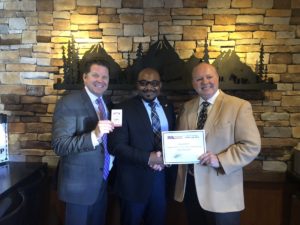 Chris Elliott celebrated his 15-year anniversary with the Company in 2019, a true milestone in his career, and has pioneered some of the leadership and marketing strategies we use today.
 "I came in as an overstaff manager back in the day. The process was much different back then for training, but I quickly took over a new office in Jonesboro. I was employee #81 in the Company."
His infectious enthusiasm and motivating spirit have led team members to choose him as a leader and mentor. He admits that if he wasn't a current key member of our multi-unit team, he would be a football coach because he admires the opportunity to mentor and coach a team of individuals much like he does today.
"When I came to this Company, I saw a huge opportunity. Not many were as hungry as myself and I knew this was my opportunity to jump in the fast lane."
Where did your hunger for success come from?
 "I am originally from the inner city of Washington, D.C. There was a certain rat race in that type of environment. The hungry survived and the less hungry, well, they don't get fed. Before I came on with the Company, I held three jobs just to maintain a decent living. So, that mindset of being hungry came from growing up in that environment."
What does Black History mean to you?
"Black should not be thought of as a moment. This is not just celebrated in February. It's something we do throughout the year. Black is the fabric of the nation, the fabric of the world. It's in our DNA, it's in the existence of mankind. Black is everywhere and a part of everyone."
 "We place emphasis in February to honor and learn about the unsung heroes and the individuals we don't know much about. The ones we weren't taught about in school. In February, we should try digging deeper to find those individuals and recognize their contributions."
 "I am always trying to educate myself on the individuals that came before me. I love to travel outside of work and everything I do, I make a habit of finding a museum of some black history that I can learn about."
 What advice would you give to emerging leaders?
 "I live my life with a saying, 'The biggest man was a baby at one time.' It has helped me through my tenure with the Company. We were all babies at one time and we learned to grow. You have got to be willing to grow. Have someone around to check you and let you know if you've grown from the year before."
 "At this point, my name precedes me. But I wasn't always Chris Elliott, DDO. I had to become this person. It's all about the big picture and understanding the changes in life that has to happen. Embrace it every day. Keep your eyes open and look at the big picture."