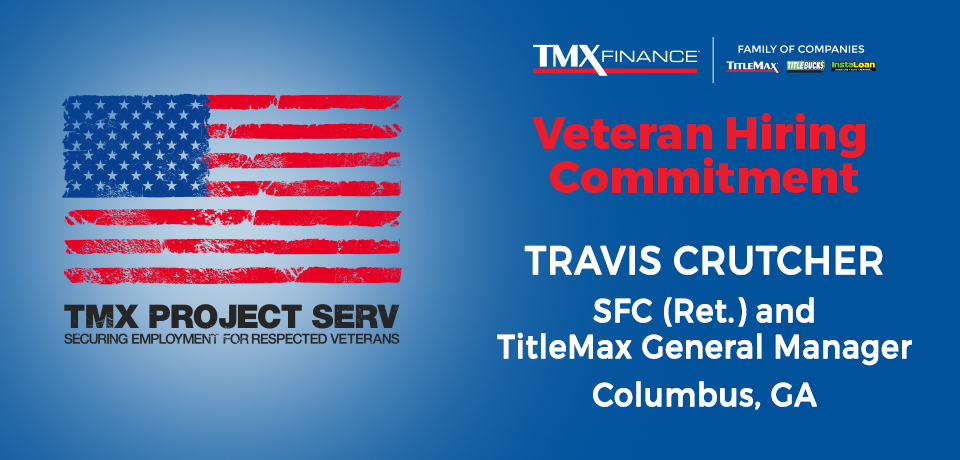 Read about how our current Veterans have transitioned their military skills and experience into successful business careers.
---
Submitted by: Travis Crutcher SFC (Ret.) and TitleMax General Manager, Columbus GA
Anytime you have a transition in your life it can be daunting. This was definitely the case for me last October. I was set to retire from a career in the United States Army, where I served as an Infantryman. Up to this point, I had spent nearly my entire adult life in the Army starting from the age of 19. During my service, I deployed several times and I have to say that having to ask myself the question, "What's next?" was exponentially more frightening than fighting insurgents!
The first obstacle during my transition was trying to figure out how to articulate my military experience in a way that would translate into a marketable civilian skill set. Step one was writing a resume, something I had never done. You see, in the military your awards and decorations are your resume. They are badges on your shirt and a Tab on the left shoulder. People know what you can do just by looking at you. On top of that, I hadn't even filled out a job application since I was 16! However, I was able to use my NOCER's (Non Commissioned Officer Evaluation Reports) as the frame work for my resume, and I pulled the most quantifiable bullets that demonstrated leadership, responsibility, conflict resolution, and soft skills I knew would be appealing to employers. I removed all the military jargon I could and expounded on these bullets to build my resume.
Once I got past that part, my focus then turned to finding not just a job, but my next career where I would be able to apply what I learned during my time in service. Luckily, I found what I was looking for with the TMX Finance Family of Companies. The first thing that stood out to me was the Company's core values of Excellence, Integrity, Respect, and Enthusiasm. In the Army, we have a similar set of values we strive to live by— Loyalty, Duty, Respect, Selfless Service, Honor, Integrity, and Personal Service. It was very reassuring to me as a new hire to see a similar set of values that I knew I could grow my new career by following.
During my training, I took a slightly different approach to learning than some of my peers. I knew from my time in the military that if you really want to know how something works— you go to the source. For example, when I would move to a new unit and take over a new platoon, I rarely asked the lieutenant what issues the platoon had and who the top performers were. Instead, I would go directly to the lowest ranking private and get their perspective. By taking this route, I was able to become the type of leader I would want to follow and develop a real working knowledge of how everything is done. Another huge benefit to this approach is that you become an empathetic leader. You know what it takes to get the job done because you have actually done it yourself.
Once my training was complete, I was "chomping at the bit" to get placed. I was temporarily assigned to a store in Columbus, Georgia while waiting on my District Director to decide on the best placement for me. For three weeks I worked at this store and was quickly able to identify several areas where I knew I could use my training from the military and my Company training to make some positive changes. Once I was officially placed, I kicked into gear. I've always been a big believer in servant leadership which is essential in building a strong team for combat, and this time would be no different. Instead of doing the typical new leadership move of publishing some long-winded email about changing everything, I just started doing! I was cleaning frantically, going through specific areas and correcting issues, taking all the trash out every night, oh yeah– did I mention cleaning? Lots of cleaning!
After about a week, without even being asked, the other two team members began doing the same things. Leading by example was the key here, just as it was in the Army. Next up was creating a strong team atmosphere. Thanks to many years of intense counseling sessions and some tactical training courses, I am a pretty effective team builder. Over the next couple of weeks, I made it a priority to spend time talking with each team member individually to discover what they liked and didn't like and how we could work together to grow as a team. Within a month, it went from gloom and doom at my office, to the place everyone wanted to be, seriously other store employees were asking to come work here! The payoff to this leadership approach is that it truly does build a team environment and people would rather feel like they work with someone than for someone.
Overall, my transition from the military to civilian life has been relatively smooth and that is due in large part because I was blessed to find a home here with the TMX Family of Companies. The Company truly desires to find and retain strong leaders and encourages them to use asymmetrical problem solving. The structure of the training materials coupled with gleaning everything you can from seniors, peers, and team members makes it a perfect fit for any transitioning veteran!
---
TMX PROJECT SERV – Supporting the communities we serve, and more importantly, supporting those who have served us.
Learn more about our commitment to hiring Veterans at https://www.tmxfinancefamily.com/careers/veteran-careers/.