Submitted by: Tera Bolton, District Director of Operations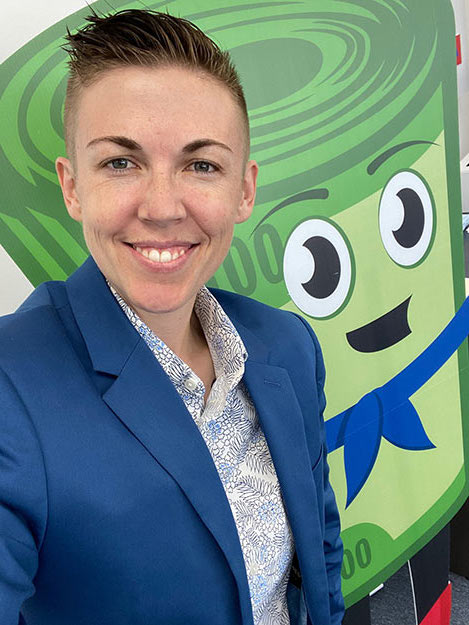 Tera Bolton began her journey with the Company in 2014 as a Store Manager and quickly rose to becoming a General Manager. She now serves as a District Director of Operations and oversees existing markets and opening brand-new locations throughout our central territory. The opportunity to hand store keys over to a newly promoted Store Manager or General Manager continues to be one of her proudest accomplishments as a leader. As an ambidextrous Star Wars fan who isn't afraid to be herself, she's always looking for the next challenge and opportunity to expand her knowledge.
"I am creating a vision for my new stores that the sky is the limit. The only competition we really have out there is ourselves. If we can conquer our own fears and hesitations, then there is no stopping us. With that being said, I am encouraging my team to be the truest form of themselves that they can be. What makes us unique is what we bring to the table. I am not afraid of the person I am, and I want my team to feel the same way."
How would you describe your team and what makes each of you work well together?
"My current team is a dynamic set of individuals! They all come from different backgrounds and experiences. For me, it has been fun tapping into each Team Member's mindset to help them grow within their roles while growing their stores. What makes us work well together is encouragement, positivity, and vision. Since I have stores in two different states, we have fun competitions between the two areas."
What challenges have you overcome in your career with the Company?
"Some of the biggest challenges I have taken on in my career was new locations when I was a General Manager. You have to learn and understand many new things including your customer base, store demographics, and the team working with you! You have to find what moves and motivates those Team Members, and that can be a huge challenge in itself.
Two of the three locations I took over as General Manager were locations with plenty of room for opportunity. I knew that I had to move fast to get those stores back in line and trending in the right direction. Instead of seeing it as a disadvantage, I took the reins and found any way I could to make things better. I started with my Team Members and assessed any knowledge gaps. I coached, mentored, and developed them so they could help me improve the store.
It takes a village sometimes, but it all starts with us. As a team, we were able to get greatly improve those locations within three months of me being in place. Do I take all the credit for that? Absolutely not. It took me, the SM, and the rest of the team to get it done. When a store can operate successfully as a unit, that's when challenges and obstacles disappear. Sometimes you just have to look at things with a different lens."
What has made your time with the Company special to you?
"I love being involved in special projects and spearheading events. The Company has always encouraged us to be more than just a position or a title, and what I love about that is we do more than just the basics. We are an organization that gets out and not only helps our individual Team Members and customers, but our communities!
One thing I absolutely love about TMX Finance® Family of Companies is the footprint we have in our local communities. Last year, one of my fellow General Managers, Laura Gonzalez, arranged for TitleMax® to participate in a giveaway to families in need during the holidays. We set up a volunteer booth during the event and handed out waters, goody bags, and gained exposure as a Company. This was such an empowering moment knowing we were involved with other organizations that gave back to those who needed it the most. There truly is no better feeling than that of giving back."
How has the Company supported you throughout your career journey?
"There are so many individuals I could thank who have helped me along the way. Laura Gonzalez, Sofia Burgess, Nic Rodriguez, and Joseph Trella are a few of many who have inspired me, motivated me, and encouraged me to be the best version of myself every day. This type of leadership and camaraderie is just an example of what I want to exemplify in my own district and the region I am in."
What advice would you give to emerging leaders starting their journey with the Company?
"Do not ever stop or slow down for anyone or anything. 'Run your own race', as Otto [Bielss] has been saying in our leadership series. Be specific with the goals you want to obtain here at TitleMax®. When you look at your vision board, don't just throw random pictures or phrases on there. Have realistic, obtainable goals and set a pathway to achieve those visions, whatever they may be.
Believe in yourself and believe in the journey. Use any and all resources available to you and don't be afraid to ask questions! Set short term, intermediate, and long-term goals for yourself and incorporate those goals into your everyday mission. Be positive and inspiring to those around you.
Lastly, always challenge yourself to be more than what you think you can be. The only person holding you back is yourself. Shake off the dust and get uncomfortable!"